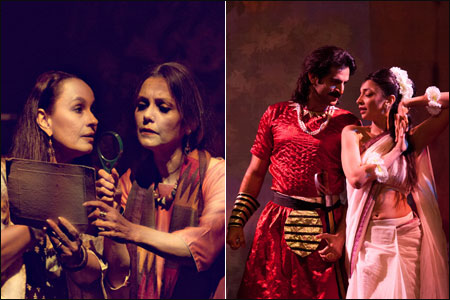 Mahesh Dattani's Where Did I Leave My Purdah is a comedy drama focusing on Nazia Sahiba, an actress who used to lead a theatre company and is looking to revive it with a modern performance of Shakuntala, the lead role of which Nazia herself was famous for playing. In her journey to get the new version staged, calling it "post-modern Indian theatre", Nazia has to come to terms with her past, which is a source of inspiration but also of great pain as she relives some of the terrible, yet defining moments of her younger life.

In her past, Nazia travelled to India with her husband, Dushyant, because his Hindu background was putting him in mortal peril where they were. When they finally arrive in India after what can only be called a hellish journey, her troubles are not yet over as Nazia has to come to terms with the fact that neither she nor her husband will ever be who they were. In the present, an older, but maybe not much wiser, Nazia is trying to get actors together for Shaku, her modern interpretation of Shakuntala, while also having to deal with Ruby, who the audience is introduced to as being Nazia's niece. With a background in fashion, Ruby wishes to display some of the old costumes of Nazia's old company, but Nazia, bent on saying goodbye to the past in more ways than one, refuses to let this happen. This conflict of interest ultimately forces Nazia to look her past in the eye and try to come to terms with it.

The set is very basic, and anyone expecting to see great amounts of scenery and colour will end up somewhat disappointed. It does, however, fulfil its purpose of dividing the stage between the older and younger Nazia. The way it's set up is that both sides have the same types of furniture presented in a mirror-like configuration, which strengthens the idea that older Nazia still has unfinished business with younger Nazia.
Having mentioned her name as often as I have in this review, it is probably quite obvious by now that Nazia is the centre of everything. This befits the character quite well, but personally I would have loved to see more of the other characters. Nazia's younger sister, for example, barely gets any stage time, which is a pity since she is the topic of many a conversation during the course of the play. The same could be said for the actress who plays a girl auditioning for the part of Shaku, Selina Hotwani, who I would loved to have seen more of.
However, it should be said that in terms of acting it was a great play to behold. Lillete Dubey was made to play the older Nazia and it's great to see her interact with any of the other actors. Sid Makkar, who plays the male parts in the performance, is confident in his interpretation, which makes him so great to watch. Soni Razdan and Neha Dubey are both well suited to their roles as, among others, Ruby and young Nazia respectively, and I was particularly impressed by the latter's emotional response about an hour into the play.

All in all, this play is well worth watching and I'll be looking forward to future productions from this company at the Watermans, where they are apparently regulars.


Where Did I Leave My Purdah will be running at the Watermans in Brentfort until 29 September. More information about the play and ticket purchase can be found here:
http://watermans.ticketsolve.com/shows/873493714/events