As I've said before, children's entertainers are often overlooked. And yet children's theatre is the most important part of the industry. Do it right and you've got them for life. Do it wrong and you may never get them on board.
With this in mind, I took myself off to some children's shows during half term to see just what is on offer for, hopefully, our next generation of audiences, performers, directors and technicians.
My local arts centre, Norden Farm Centre for the Arts in Maidenhead, was buzzing. There was something on all day every day, from storytelling in a gypsy caravan-style tent complete with floor cushions, to family friendly movies and arts and crafts sessions.
But it was the children's shows I wanted to see, and I was not disappointed. While many may think there is not much to entertaining little ones, nothing could be further from the truth. The shows may look simple but it takes a lot of skill to keep young minds engaged for 50 minutes, and today's entertainers come with skill in abundance.
Image credit: Andy Sapey courtesy of Ripstop Theatre
First off was Zannie Fraser who, in 1998, formed her own theatre company, Ripstop Theatre, which went on to be the first British company to perform at the International Shadow Theatre Festival in Germany in 2003.
Inspired by the Collingley Fairies, supposedly photographed in 1917, Zannie's show, A Real Fairy Story, really is magical – to the point where a fairy levitates under a piece of cloth and words disappear from a book.
As Miss Amelia Buttersnap, a fairy expert who has never seen a fairy, Zannie incorporates all sorts of paraphernalia to hunt down fairies and photograph them – and when someone sends her a captured fairy she transforms it into exquisite scenes of shadow puppetry.
Andy Lawrence is an imposing figure with his white pointed beard and love of hats, but he takes children's entertainment to another dimension with a myriad of puppets and sublime storytelling.
Andy trained and worked as a theatrical costume designer but now, under the title of the Theatre of Widdershins, he uses his skills to create imaginative, innovative shows and workshops which leave his audiences wide-eyed and open-mouthed.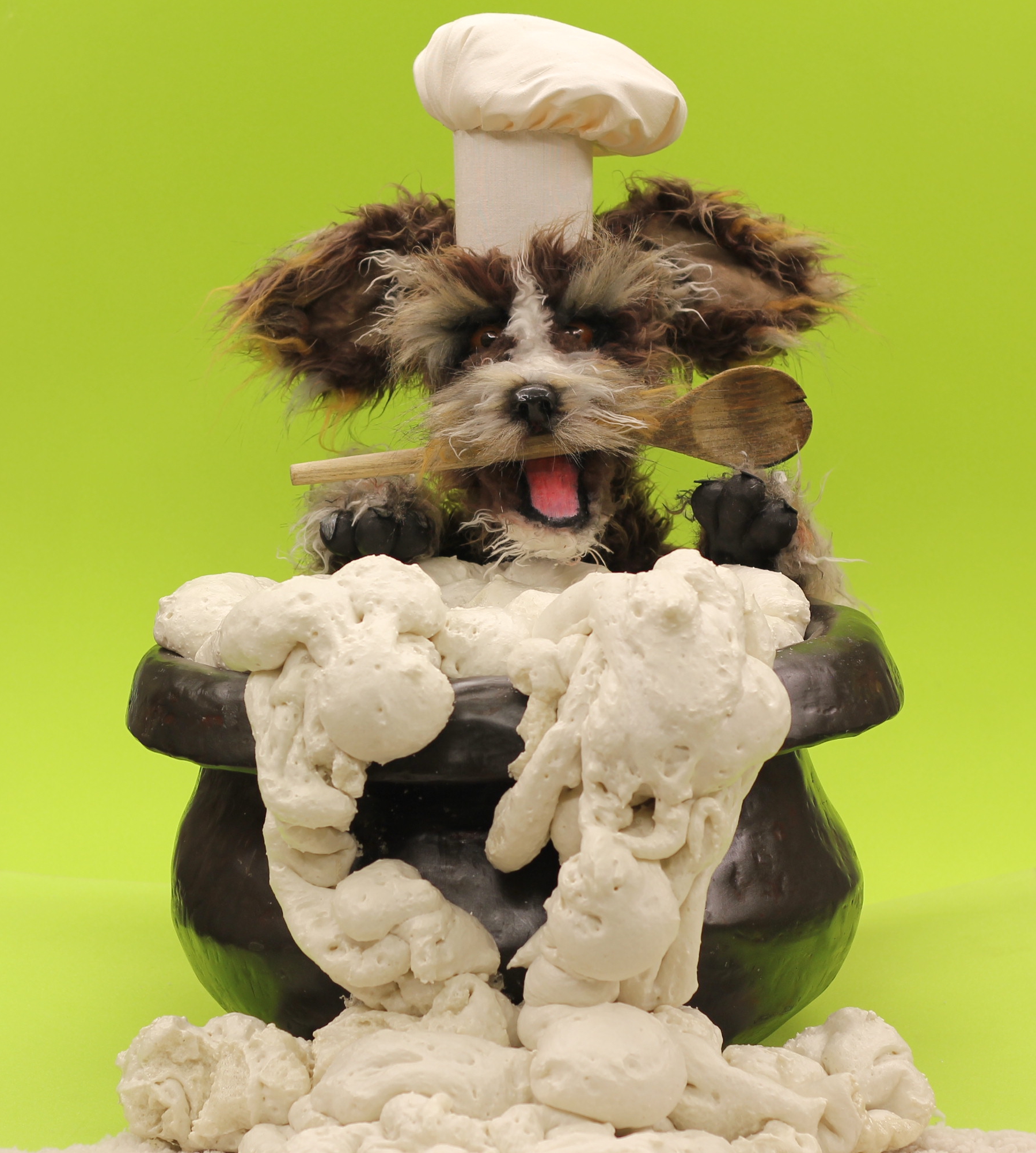 Image courtesy of Widdershins Theatre and
Norden Farm Centre for the Arts
The Magic Porridge Pot and Other Tasty Tales comes in three parts. Scenery pops out of boxes like Russian dolls and animals, including a giraffe, unfurl from buckets, porridge threatens to flood the home of Granny Grimpickle and her lifelike dog Podge, stone soup is served and a gingerbread man runs wild. Together with original music, jokes for parents/grandparents and Andy's unique personality, this three-course show is a veritable feast.
Finally, I made the journey to the Lyric Hammersmith to see the Blunderbus Theatre Company or, rather, gifted young actor Ben Sbuttoni.
Blunderbus was also set up in 1998 and has such a good reputation that when it was touring in Malaysia recently two storytellers made a special trip from Indonesia just to see the show. Their shows are bright, colourful, and involve the young members of their audiences with slapstick and squirting of water.
But it was Ben I wanted to see. Expressive, outgoing, but with a wide-eyed innocence and a cheeky grin, he is a natural performer and a great favourite with children. Together with his co-star Simon Sanchez, he had the audience in fits of giggles as they told the story of Dotty the Dragon.
Image courtesy of Blunderbus
Judging by the sell-out shows last week and the happy, excited children leaving each venue, it looks like children's theatre is thriving – and long may that be!