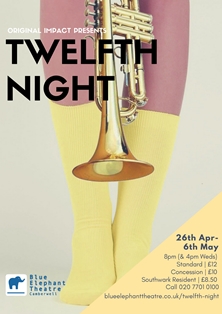 If music be the food of love, play on.
The theatre company Original Impact draws upon performance art, popular culture and current affairs to create original work and is now presenting a modern, musical production of one of William Shakespeare's most popular plays.
Sam Dunstan energetic production turns Illyria into a party island, defined by the words "To beer or not to beer (that is the question)" sprayed on the backwall. Duke Orsino (Andi Jashari), confident ruler of Illyria, is lusting after Olivia (Eve Niker), whose melancholy mood after her brother's death could not feel more out of place. Thankfully, she can count on her steward Malvolio (Timothy Weston) to calm her senses with his sombreness in this sunny paradise.
Sir Toby Belch (Joshua Jewkes) resembles a western tourist who has partied too long on Mallorca, complete with beer gut, sunglasses and white socks, whilst Sir Andrew Aguecheek (Dinos Psychogios) is turned into a rather hopeless DJ. Maria (Alexandria Anfield) is a self-confident bar maid and adored by Sir Toby for her wit.
After an impressive storm scene that sees Katie Turner's Viola stranded on Illyria, Viola dresses up as the cheeky rapper Cesario, but she still looks very much like a girl. However, her scenes with Eve Niker's Olivia work very nicely as there is real chemistry between the two actors.
This is a very physical show with live music and a lot of slapstick. The songs have all been updated with Sian Eleanor Green's Feste emulating Whitney Houston and Andi Jashari's voice booming across the auditorium. There is no room for Elizabethan harmonies among selfies and mobile phones.
The cast speak Shakespeare's verse beautifully and the performance is entertaining, including many funny ideas. However, I felt that Sam Dunstan could have brought more to the production, there is little depth although Shakespeare's play offers so much to explore.
A fun night out.
By Carolin Kopplin
Until 6th May 2017 at the Blue Elephant Theatre in Camberwell
Running time: 2 hours plus a 15-minute interval