After their 2011 collaboration at the Manchester International Festival on
The Life and Death of Marina Abramovic
, renowned theatre director Robert Wilson and Hollywood actor Willem Dafoe are reunited for this adaptation of Russian absurdist novella
The Old Woman
.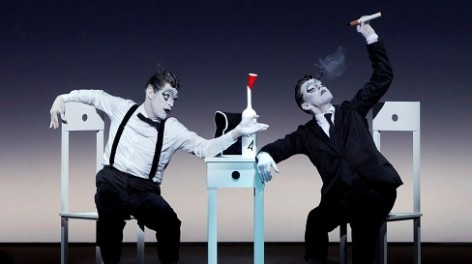 Daniil Kharms's 1939 piece is set in a recognisably Depression-era cityscape: shabby suits, shared lodgings, bread queues and crowded pavements form the world of a struggling writer who is significantly inconvenienced when an old woman calls round and dies in his room. Writers' block and sausage-induced indigestion are as nothing compared with our hero's struggle to dispose of a corpse which has an annoying tendency to become reanimated and pop up randomly around the flat. It's as if Joe Orton's
Loot
had been rewritten by George A Romero with designs by L S Lowry.
Darryl Pinckney's adaptation divides Kharms's first-person narrative randomly between two actors (Dafoe, and the legendary Russian ballet dancer Mikhail Baryshnikov), chops up and rearranges the story, skips back and forth in time, repeats episodes, retells some, omits others, and occasionally throws in (what I assume is) great gobbets of the original untranslated text. I remember wondering what anyone who hadn't read the story would make of it all.
Director Robert Wilson also designs and creates the lighting concept. It's a bit like watching a cartoon brought to life, as props resembling two-dimensional line-drawings are flown in and out of a luminescent blank space while the pan-faced actors in their black suits and wind-blown quiffs channel their inner clown. Overall the look of the piece summons up not 1930s Russian but
Mad Men
-era America – all sharp silhouettes, jagged edges and jazz. It reminded me of those Tom and Jerry remakes from the early 60s – and like them, somehow lacked warmth and sentiment.
Meanwhile I am going straight back to the galleries at The Lowry to examine the Salford artist's paintings for any evidence of clocks without hands or people being beaten to death by cucumbers.

The Old Woman
is on until Sunday 7 July 2013
Box Office: 0844 375 2013
www.mif.co.uk