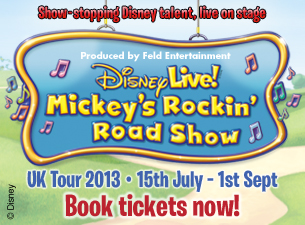 What to do with the kids during the long summer holidays? That's the perennial question many parents ponder on, as the weeks loom ahead and kids easily get bored. One way to keep them entertained for a few hours, but to give them lifetime memories, is to take them to the theatre to see Mickey's Rockin' Roadshow. Mickey, Minnie, Donald and Goofy, are joined by some of our favourite Disney characters as they set out on a road trip and decide to put on a talent contest.

I took a party along of 3 small children, Cain, Evie and Sadie, who were all very excited to see the show and join in the fun. Accompanied by their mums (my niece Melissa and neighour Alice) we all enjoyed the show as much as the kids. In fact for me the delight in taking kids to see a show is watching their excitement and looks of wonder at seeing the characters come to life on stage. Readers may remember that I took Melissa and Cain along to see My First Cinderella in April and Cain still talks about it whenever he passes the theatre. We can't underestimate how wonderful memories can be created in our little ones minds', when the colourful spectacle of live theatre creates a magical experience.

Mickey's Rockin' Roadshow is a live stage spectacular, packed with fun, sing-along-songs and dance. Cinderella looked beautiful and we were amazed at the clever costume change into a gorgeous glittery ballgown, right before our eyes. Cain's favourite Disney character Woody was there, with Jessie and Buzz Lightyear, encouraging us to shout out 'yee'haw' at the hoedown. I've always loved Tigger though, so I was happy to join in the bounce song with him and the rest of the kids in the auditorium!


It's a great, fun show and everyone works really hard to keep it moving along and energetic. One word of warning though, the merchandise on sale is very expensive, so you may want to think about how you deal with 'pester power' beforehand!

You can catch the show to the end of August at the following venues and create some magical lifetime memories for your own kids:




9th-11th
Millennium Centre, Cardiff
13th-14th
The Brighton Centre, Brighton
16th-18th
New Wimbledon Theatre, London
22nd-25th
Blackpool Opera House, Blackpool
28th-31st
Sunderland Empire, Sunderland
Reviewed by:
Yvonne Delahaye
6.8.13