Reviewed by Louise Winter 20th October
Image copyright ash
This triple bill of stunning works, Tamara Rojo's first commission as Artistic Director of the ENB, reflect on the experiences of those involved in WW1. These are astounding pieces that deserve to reach a very wide audience. I was struck by the fact that on this tour they are only performed this one night at MK theatre and one night at The Palace Theatre, Manchester on 24th November. Commissioned as part of the 2014 100th anniversary to mark the start of war it is clear they are subject specific works. However, their pertinence and power is relevant in today's strife-ridden world and they deserve to shown much more extensively.
The works from British choreographers, Liam Scarlett, Russell Maliphant and Akram Khan, sit very well together. No Man's Land by Liam Scarlett, set to excerpts from Liszt's 'Harmonies poetiques et religieuses', is driven by the women who made bullets in the munitions factories, known as 'canaries' because the work turned their hands yellow. This is the only piece to use any structural staging, designed by Jon Bausor, part factory elevated up from part battlefield with a stairway opening up to jagged hole through which their men both real and ghostly return. All this, enveloped in smoky lighting by Paul Keoghan, makes a highly effective sense of time and place.
Seven couples are woven together in this complex piece; Scarlett interpreting Lizst's contrasting movements through pacing, shaping and a meld of 'traditional' and more experimental choreographic direction. The white of the women's arms wrapped around their men like the straps of human knapsacks is an abiding image. As the work unfolds a tangible sense of loss and sadness in the gap that is left when someone is gone weaves through the narrative. This feeling culminates in the pas de deux danced with technical brilliance by Rojo and Junor Souza.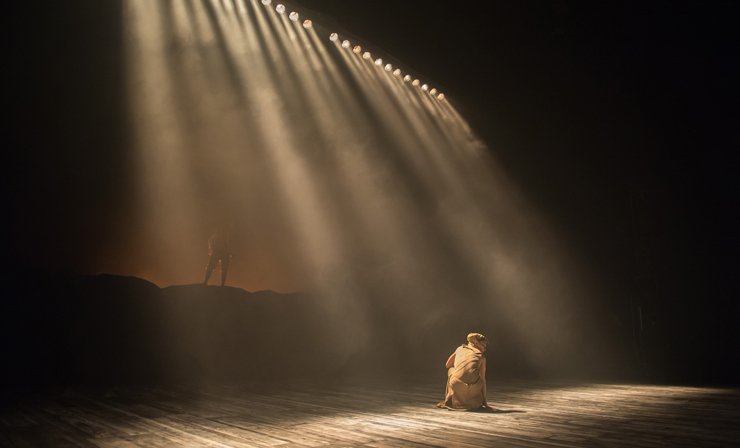 Image copyright ash
Second breath by Russell Maliphant is utterly hypnotic. Set in semi darkness, a stage full of dancers sway, rise and fall. With no obvious narrative there is an emotional punch as these movements repeat and build as if swathes of men are being shot. Andy Cowton's composition of delicate piano, harsher strings and a veteran repeating 'strain of continual bombardment .. continual bombardment ... all the time' combine with the choreography and bring to the fore the unremitting state of destruction and desolation of the front.
Image copyright ash
Dust by Akram Khan was probably the strongest piece for me. It seemed to portray the utter trauma suffered by those who never recover from the effects of active combat. This is a profoundly haunting, even disturbing piece, such is its power. The images of James Streeter's tortured, tortuous writhing movements have stayed with me long after the final curtain call.
This is unusual, powerful, innovative choreography by Khan. The eerie music by Jocelyn Pook and cyclical playing of a snippet from British soldier Edward Dwyer singing 'We're here because we're here,' along with atmospheric lighting of Fabianna Piccioli creates a truly thought provoking work. I felt dreadfully sad yet the creativity of the choreographers, and the athlectisim and mastery of the dancers was inspiring at the same time. It is sometimes difficult to express in words the deep emotional impact that art can have. For me, this is one of those occasions.
Lest we forget played for one night at MK theatre. The run continues with Romeo and Juliet until Saturday 24th.
Box Office 0844 871 7652 (bkg fee)
Online Booking www.atgtickets.com/miltonkeynes (bkg fee)