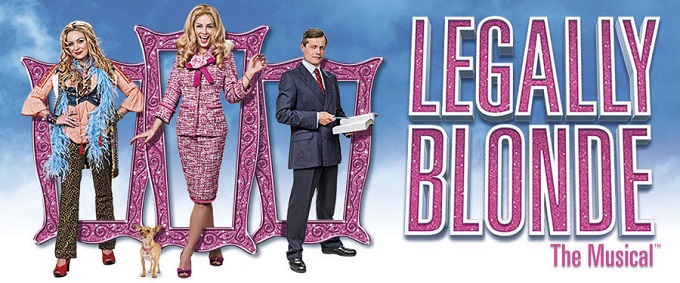 OMG you guys! The audience was packed to the roof in Glasgow's King's Theatre last night to see and hear Elle Woods "bend and snap" as only Elle Woods can! They were treated to a great feel-good show full of catchy tunes and delightful characters.
Legally Blonde is a movie that has achieved almost cult status among its fans. With an adorable performance from the pint-sized Reese Witherspoon it tells the tale of love-lost Elle who is ceremonially dumped, but follows her ex to Harvard Law School in an effort to win back his heart! It's a journey of self-discovery as she learns about her own strengths and finds a way to fight for the underdog as only she can
On stage, this rich and empowering storyline is delivered by strong character performances and an uplifting score full of memorable songs
In the lead role of Elle, Lucie Jones delivered an endearing performance with powerful vocals. In stature, she was considerably larger than the famously tiny Reese Witherspoon and this detracted somewhat from her vulnerability. However, she quickly won the audience over with her winning smile and bubbly personality. By the second act I was cheering for her as loudly as all the pink clad women around me!
Rita Simons, as Paulette, supported well with a fiery character and good comic timing. Helen Petrovna was outstanding as skipping rope fitness queen, Brooke Wyndham, leading a cast of skip-rope dancers in the spectacular "Whipped Into Shape". Elle's supporting "Greek Chorus" were extremely talented and added harmony and depth to every scene they appeared in
The show has some great musical numbers with highlights being "Omigod You Guys", "Bend and Snap" and "Legally Blonde". I have to add "There! Right There!" to the list - subtitled "Gay, or European?" – it had me rolling in the isles!
All in all, this is a great fun and uplifting production which is well worth the ticket price.
Legally Blonde – King's Theatre, Glasgow
23-28 April 2018
Evenings 19:30, Matinees 14:30 (Wed, Sat)
Tickets £15 - £69.50
http://www.atgtickets.com/venues/kings-theatre/
0844 871 7648* calls cost up to 7 p per minute plus your phone company's access charge