Reviewed by Louise Winter
10 July 2017
Having seen Sally Cookson's creative re-imagining of La Strada earlier this year it was with very high expectations and great anticipation that I settled into my seat for her take on Jane Eyre. What a thrill! Absolutely nothing in this production disappoints; it is stupendous and utterly satisfying on all levels.
Charlotte Bronte's novel, which brought to the page much of her suffering and anguish as a young woman, was originally titled 'An autobiography' and published under the name Currer Bell. No one initially believed a woman would be the author of such an angry and passionately intense book and it created a huge stir at the time. There are numerous connections across Bronte and Eyre's lives; the north-country origins, early deaths of siblings, and desperately unhappy times through boarding school and early work-life. The power of the story and its autobiographical elements, married with Cookson's unique presentation and the powerful elements of the production design, combine to create an absorbing and mesmerising three hours.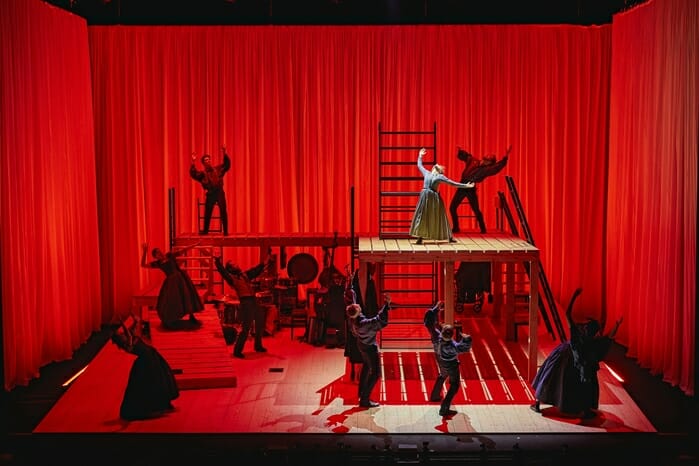 photo by
Michael Vale's stage design is understated and dynamically effective. A centre stage series of wooden frames, platforms and ladders, which remain immobile but are dynamically utilised by the players, serve as a child's climbing frame, various residences and institutions and rooms within these. Depending on how this frame is lit and populated, the atmosphere veers from the oppressive to the expansive. Further suspended or carried frames suggest outside spaces through to imagined vistas and the changing of the seasons. A background of white drapes on 3 sides serve as screens for Aideen Malone's colour projections creating shifts in emotional and physical space; the foreboding and punishment of the red room, the cruelty and starkness of the orphanage.
photo by
Benji Bowers' compositions and Dominic Bilkeys' sound design, are integral to everything that happens on stage. All original apart from three pieces, it is eclectic and performed centre stage by a small group of musician/actors. Far from being a distraction they are absolutely vital to the story and lend a further element to the story and atmosphere. There is often a hypnotic sense to quieter moments on stage created by the soundscape until contrasting speeds, genres and volume shift the timings and dynamically propel us again through Jane's journey and emotions. The fully integrated and balanced use of the designers' use of all elements of structure, sound, space, colour and movement ignite the audiences' imagination fully in Cookson's take.
photo by
A very small cast with actors playing multiple parts means everyone is on stage for most of the time. Outstanding one and all, this group of actors and their sense of unity creates the completeness of the experience rather than the relying on lead players. Melanie Marshall, at first appearing to be an understated narrator or commentator later emerging to be Bertha Mason, is still and poised emerging from the shadows to perform with the most entrancing operatically powerful voice. Her stillness symbolising her trapped life perhaps, with not a hint of chaotic madness about her but rather a measured clarity of purpose. Nadia Clifford as Jane is brilliant and the difficult and tumultous relationship between her and the excellent Tim Delap as Rochester is palpable, never veering into caricature but believable and true. Paul Mundell (Mr Brocklehurst/ Pilot/ Mason) is markedly different in his roles, very funny and unusual as Rochester's dog. Evelyn Miller (Bessie/ Blance Ingram/ St John) is outstanding and proves her versatility in this range of parts as does Hannah Bristow in her five roles.
A dynamic, energetic, absorbing and stunningly presented piece of physical theatre which brings a new dimension to Bronte's book.
Jane Eyre is at MK theatre until 15 July and then continues on tour
Box Office: 0844 871 7652 (bkg fee)
Groups Hotline: 01908 547609
Access Booking: 0844 872 7677
Online Booking: www.atgtickets.com/miltonkeynes (bkg fee)
.