CATS, Bristol Hippodrome

16 - 26th October


When T.S. Eliot published his whimsical collection of poetry Old Possum's Book of Practical Cats in 1939, he could hardly have imagined how it would later be transcribed and transformed into one of the longest-running musicals ever to grace the West End. Andrew Lloyd Webber, however, wasn't the first musician to melodise these verses: composer Alan Rawsthorne did so in 1954, as did Humphrey Searle some time later. Eliot's work, with its addictive rhythms and reiterative cadences, evidently lends itself to musical adaptation.
A perilous, capital risking enterprise in 1981, with Trevor Nunn directing and Elaine Paige starring as Grizabella, this strange, narrative shy, dance heavy experiment was regarded my many as doomed to failure. Trevor Nunn, in fact, recalls people having 'trouble disguising their amusement at the seeming badness of the idea".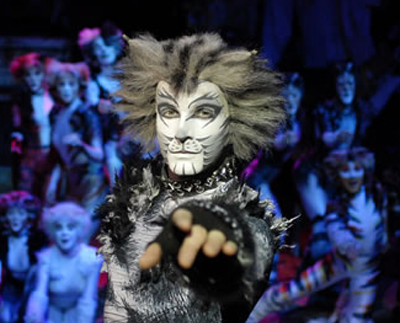 Cats is now, of course, a familiar part of the cultural landscape and in this tour version many of the signature elements of the original production have been reprised, including the junkyard setting scaled to the cat's point of view, the madcap feline costumes, the mottled lighting effects and, most notably, the recreation of the original dance choreography by Gillian Lynne. As she once explained, cats were "at once aloof, hyper-sensual, cold, warm, completely elastic and very mysterious", characteristics she manages to capture "in an exciting, theatrical, witty yet feline way". Certainly there is more variety and ingenuity of movement here, in the first 'danced through' musical ever devised, than you'll see for a long time yet.
Sophia Ragavelas' rendition of Memory tears the night sky with its searing sadness, while there is something inescapably touching about Paul F Monaghan's trembling, melancholic evocation of theatrical times gone by. Like the musical itself, Gus the Theatre Cat is a venerable cat, a very proud cat, and one with a great dramatic history behind him. Unlike the musical, however, it is clear he is not long for this world.

When the show first closed in London back in 2002, Andrew Lloyd Webber said "Obviously, I am very sad but, by my calculations, 21 years is a great age for a cat and, after all, it does have eight lives left." He was right to predict its longevity; the musical has been performed in over 26 countries and seen by over 50 millions people: less a neighbourhood cat than a global cat, you can catch it on Bristol's doorstep until the 26th October.