Review by Cameron Lowe

The Tim Rice / Andrew Lloyd Weber masterpiece, Evita, returns to the King's Theatre this week.



It is easy to see why this musical has become one of the most loved and enduring successes of the Andrew Lloyd Webber / Tim Rice partnership. With an appealing score carrying the real life narrative including musical favourites like High Flying Adored, Another Suitcase in Another Hall, On This Night of a Thousand Stars, You Must Love Me and, of course, Don't Cry For Me Argentina the show lives long in the memory of the audience. The drama, too, is hard hitting set against the backdrop of civil unrest, a military coup and the untimely death of Eva Peron aged just 33.

This is a show of contrasts as unusual rhythms and jarring harmonies often resolve into beautiful, well known, melodies. A tale of political corruption and subterfuge is interspersed with moments of levity, fun and lively dance sequences as the people live their lives innocent of the power plays in the higher echelons of society.

Bill Kenwright's production, as we would expect, brings the story to the audience with authority and a high presentation standard. The set, by award winning Glasgow trained designer Matthew Wright, brought an extra dimension to the performance with a flexible system of balconies, pillars and sweeping staircases which effectively represented interior and exterior scenes. Choreography from Bill Deamer firmly placed the story in Latin America and added energy to several scenes.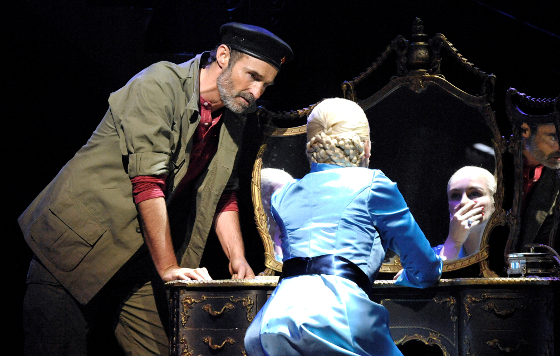 Performances were excellent throughout. Marti Pellow has rightfully established his place as a UK theatre star and seemed very comfortable as Ché. This is a demanding pivotal role as the character is rarely off stage and, as the narrator, drives the story forward. Mark Heenehan was convincing as Peron and Sarah McNicholas delivered a lovely rendition of "Another Suitcase In Another Hall" as the Mistress. But the spotlight must rightly remain on Madalena Alberto as Eva. Her voice had a beautiful quality; raising hairs on the back of the neck more than once. Vocal control was superb and particularly impressive during the dance sequences (which she appeared to relish). She balanced the (sometimes cold) ambition of Eva with her passion for the people of Argentina to ensure that the audience were ready to shed a tear upon her death … and they leapt to their feet in ovation for her curtain call.

EVITA
King's Theatre, Glasgow
Monday 3 – Saturday 15th June
Tickets £10 – £29.50
Box Office: 0844 871 7648 (bkg fee)