Reviewed by Louise Winter
17th October 2017
English National Ballet have created two stunning pieces for this tour.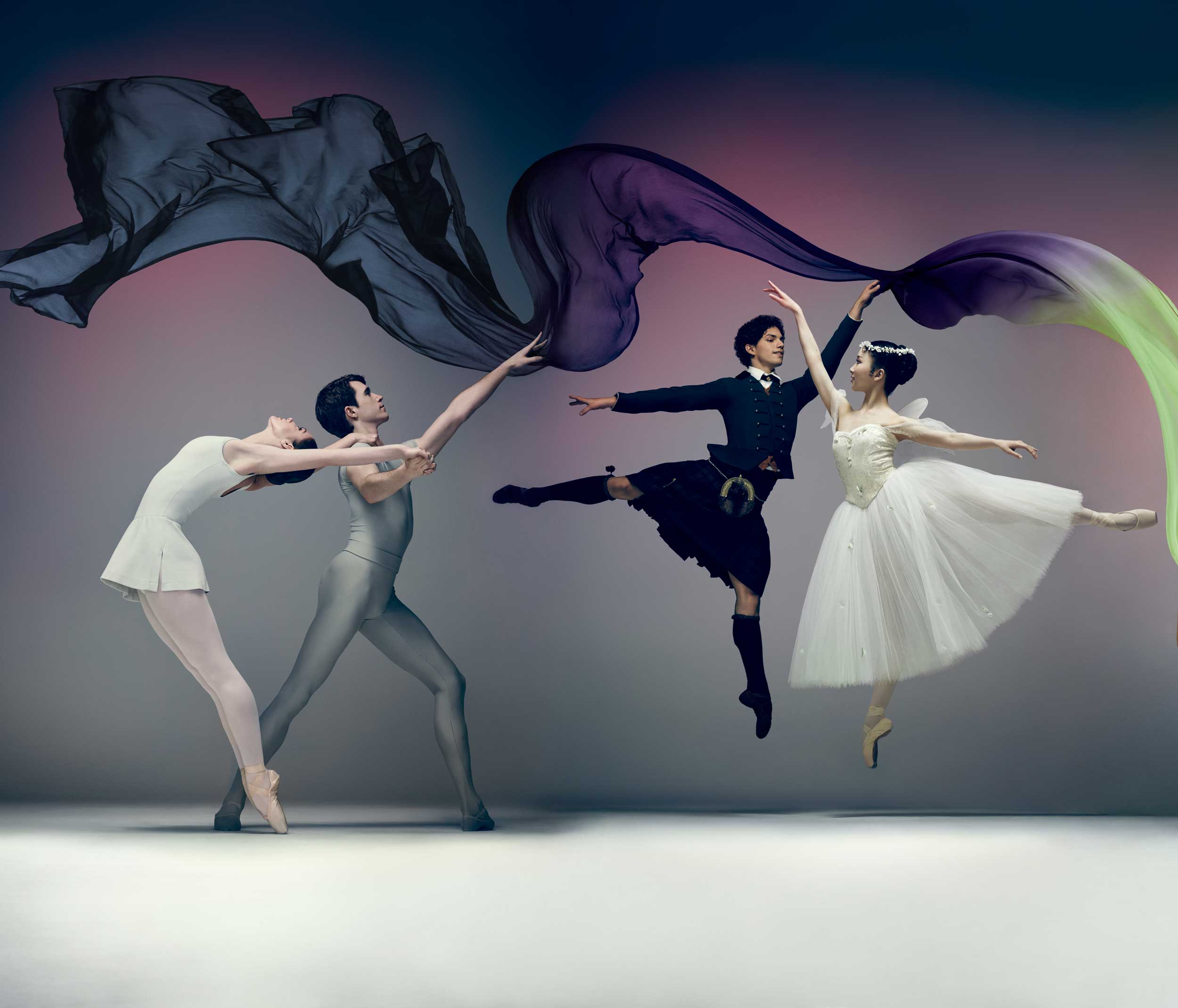 image by Jason Bell
Sir Kenneth MacMillan's Song of the Earth and August Bournonville's La Sylphide recreated by Frank Andersen and Eva Kloborg are both new to ENB and showcase the incredible talents and abilities of the ENB as a whole.
Song of the Earth has three primary characters, a man, a woman and 'the messenger of death'. This is a poignant study of life's journey and of death's constant presence. Mahler's mesmerising Das Lied von der Erde score is performed by the splendid English National Ballet Philharmonic led by Gavin Sutherland and each of the six songs is exquisitely performed by Mezzo Soprano Flora McIntosh and Tenor Simon Gfeller.
image by Laurent Liotardo
Macmillan's choreography is stunning, drawing out Mahler's musical phrasing through the performers who are propelled across the whole of this expansive empty stage. Simply attired in monochromatic dress the three key performers present a powerful synergy. Aaron Robison is a fabulously commanding presence as the messenger of death. His height and elegant body line and shaping are well suited to the role and his seduction of firstly the Man, the powerful Joseph Caley, and then the delicate and seemingly vulnerable Woman, Tamara Rojo. Caley's character, initially hopeful and robust, is continually confronted and tested by Robison's ominous messenger. Rojo's expressiveness is perfect for her character's journey from spirited purity to the desperate end acquiescence.
This is a challenging, powerful work which slowly draws you into it absorbing you as it reaches its dramatically sad close.
image by Laurent Liotardo
The second piece here is Bournonville's La Sylphide, exploring all-absorbing love which ultimately leads to tragic end. Choreographers Frank Anderson and Eva Kloborg stay faithful to this classically romantic ballet's original 1830s presentation and the feel, in sharp contrast with the first piece is of the traditional. There is a wonderful melding of classical ballet steps and Scottish folk dance which is exciting, in its speed and precision.
This is a captivating piece in part due it sumptuous nature. It is a massive production with full scenery, costumes and cast. Erina Tagahashi as the Sylph, is engagingly, vulnerably magical and her physical expression in the death scene is heartbreakingly moving. Jeffrey Cirio (James) is a thoroughly dynamic performer and Francesca Velicu as his bride to be Effy, is prettily innocent.
Image by Laurent Liotardo
Milkael Melbye's design is fabulous and adds a further layer of magic into the production; gorgeous costumes of rich golds, greens and red tartans and exquisite traditional soft, white tulle for the huge cast of sylphs.
Two completely contrasting pieces which complement each other perfectly in this superb evening's ballet.
at Milton Keynes Theatre until 21st October
book tickets at http://www.atgtickets.com/shows/song-of-the-earth-la-sylphide/milton-keynes-theatre/
Box office 0844 871 7652
Groups Hotline 01908 547609
Access Booking 0844 872 7677