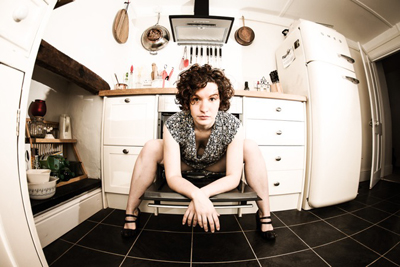 Elefeet Dance Festival presents new dance work and runs from 7th until 29th April.
If You Leave 201 Dance Company
16 – 18 April
Can you stay true to yourself, when everything suggests you change?
201's raw, contemporary hip-hop movement returns in If You Leave: a story of two people's broken encounter. After acclaimed performances in New York and a sold out London debut at The Place, 201 Dance Company presents If You Leave as a full-length production for the first time. Touching on themes of addiction, obsession, and the true meaning of commitment, choreographer Andrea Walker directs a cast of eight dancers in a fast-paced, intimate performance exploring the relationship of two young men.
Winner of the BDC Outstanding Award for concept choreography.
Choreographer: Andrea Walker
Producer: Patrick Collier
Dancers: Luigi Ambrosio, Nicole Chen Wen Ni Michaela Cisariková, Heidi Clark, Saran Kohli, Fraser Murray, Simon Tichelaar & Andrea Walker
Lighting Designer: Louisa Smurthwaite
Dates & Time: Thursday 16 – Saturday 18 April at 8pm
Bridging the Void - Experiential Dance
21 & 22 April
Film, dance and music interlace to create an immersive and mesmerizing sunrise experience inspired by the Native American saying Every Night is followed by Sunrise.
From darkness, through sunrise to dawn light, the performance unfolds around the audience, who are invited to wander, encounter and react to the production as it develops. Each person's experience will be unique and personal.
Recommended for ages 12 upwards
Choreographer: Rachel Johnson
Camera Operator: Jonathon Binks
Composer: James Welland
Cast: Elzbieta Kowalik, Eleanor Palmer & Clélia Vuille
Dates & Time: Tuesday 21 & Wednesday 22 April at 8pm
Once Upon a Midnight Dreary
24 & 25 April
A Dance Double Bill
Sonámbulas is a collaborative exploration of the world of dreams. Three characters delve into the subconscious through dynamic, frenzied movement sequences; their stories and emotions becoming tangled in the sounds of live accordion. Sonámbulas take a trip into our subconscious where unrelated images and absurd stories exist.
Choreographer: Justyna Sochaj
Musician & Composer: Martina Schwarz
Dancers: Dorota Popińska , Nashira Santanatalia-Goméz & Justyna Sochaj
NonFiction Dance present Little Red Riding Hood, a new piece inspired by the Grimm brothers' famous fairy tale.
We've all heard the fairy tale. The little girl in a red cape, her encounter with the evil wolf in a dark woods...The story has been narrated through centuries, capturing imaginations and inspiring fear in children and adults alike. But who was the girl hiding underneath the red cape? And how did the story really end?
Little Red Riding Hood explores the mysteries of this beloved character, re-examining her relationship with the wolf and re-imagining her fate.
You will never think of Little Red Riding Hood the same way again.
Choreographer: NonFiction Dance
Dancers: Rowena Evans, Dorota Popińska, Juan Ignacio Serradilla Mazuelas & Martina Vojtkova
Dates & Time: Friday 24 – Saturday 25 April at 8pm
In Memoriam
28 & 29 April
A reflection on the transformation which happens to people, their lives and their concept of normality during times of war.
In Memoriam is dedicated to women of the First World War - women who become the 'army behind the army'; women the bomb-makers, women the fighters, women who 'stayed behind', women addressed in thousands of letters and poems.
It is also a contemplation on war's parallel realities, as history and events repeat themselves across space and time.
Inspired by war-time imagery and poetry of The Great War and performed by an exceptionally skilled group of dancers and musicians, In Memoriam brings together an explosive mix of flamenco and contemporary dance.
Direction and choreography: Masha Gurina
Original music by: Steve Homes
Film-making by: Remigiusz Sowa
Dancers: Elsa Arcaute, Carolina Esteves & Laura Heywood
Musicians: Steve Homes (guitar), Demi Garcia Sabat (percussions), Javier Macias (singer) & Angela Moreno (singer)
Dates & Time: Tuesday 28 & Wednesday 29 April at 8pm
Further information: