Disney's legendary musical THE LION KING will begin performances tonight at Manchester's Palace Theatre, in advance of its official opening on Thursday 6th December. This will mark the first time that Julie Taymor's internationally celebrated production will have played in the city.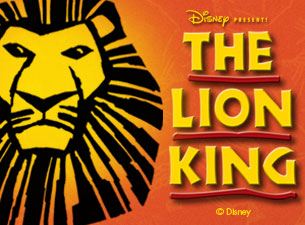 Coinciding with the first performance, The Walt Disney Company today announced that following record-breaking sales in the city, THE LION KING will extend its Manchester season by three weeks. The show will now finish its run on Saturday 20th April, 2013.
An international cast of 52 performers from 17 different countries are today undergoing final preparations for their debut in Manchester, where excitement has been building across the region since the season was announced in February. A fleet of 23 trucks has been utilised to transport Disney's enormous production to Manchester, making it the largest theatre production ever to tour Europe.
The company is led by 11 principals; Gugwana Dlamini as Rafiki, Cleveland Cathnott as Mufasa, Meilyr Sion as Zazu, Stephen Carlile as Scar, Gbemisola Ikumelo as Shenzi, Daniel Norford as Banzai, Philip Oakland as Ed, John Hasler as Timon, Mark Roper as Pumbaa, Nicholas Nkuna as Simba and Carole Stennett as Nala.


"After years of planning, we are thrilled that tonight the curtain will go up on our first performance in Manchester," said Fiona Thomas, Vice President, Live Entertainment, The Walt Disney Company EMEA . "Our company is already thoroughly enjoying their time in this vibrant city, and they cannot wait to share Julie Taymor's extraordinary production with Manchester audiences who have welcomed them so warmly."
Four years in development, this first ever UK tour of Disney's THE LION KING will now play a 21-week season in Manchester. The award-winning production will then play seasons in Dublin and Birmingham, with additional cities to be announced shortly. In total, the production will visit 10 cities in the UK and Ireland over two and a half years.
The acclaimed stage adaptation of Disney's 1994 animated film was first seen on Broadway in 1997, where it recently celebrated its 15th anniversary. The production has now been seen by over 65 million people across five continents and the acclaimed West End production continues to

sell out

at London's Lyceum Theatre in its 14th triumphant year.