By
Alison Smith
The stage adaptation by Anthony Lampard and Simon Brett of Ruth Rendell's 1977 novel, A Judgement in Stone, gives a different twist to the crime. In the novel the first line - 'Eunice Parchman killed the Coverdale family because she couldn't read' - gives the reader the 'who' and the 'why' of the 'whodunit' from the outset. The interest in the novel lies in the psychology behind the criminal motive. In the Classic Thriller Theatre Company's play the 'who' and 'why' are slow to be revealed, which should increase the tension throughout the play – is it the gardener, the cleaner, the boyfriend?
The dénouement is through a question and answer formula – on February 14th two police officers Detective Superintendent Vetch (Andrew Lancel) and Sergeant Challoner (Ben Nealon) begin their interviews of Eunice Packman (Sophie Ward). It is the day after the shooting of the four Coverdales. As their live-in cleaner for nine months Eunice was close to the family, at least in distance. Through Eunice's and the other staff's testimonies we are presented with the dead - the parents, played by Mark Wynter and Rosie Thomson, and their children, in a series of flashbacks. The past and the present are cleverly marked by lighting changes - a golden glow for the past and a cold blue for the present.
The setting is very Agatha Christie – a country estate – Lowfield Hall -with a collection of stock characters – upper class and lower class, a character with previous , a reformed bible-bashing prostitute. The set is a reflection of upper-middle class life – comfortable but not luxurious. The Coverdale's tastes are also discerning – opera, overseas travel, shooting and they employ others to look after them – Meadows the gardener, Eva the cleaner and Eunice the housekeeper. It is the Coverdale's buying power which catches the killer in the end. Throughout the play we are told about their modern devices, of the large TV in the sitting room, the one in Eunice's room and the cassette player on which Melinda was recording opera when she was shot.
The novel is well adapted to the stage to show the passing of time with the characters' slick exits and entrances. The cast are word perfect. Their gestures and voices bring individuality to their roles. The most amusing and lively is the Post Mistress, Joan Smith (Deborah Grant) who brings, at least during her first appearance, liveliness and amusement. Unfortunately the characters relationships are not fully developed. I was unconvinced by the relationship between Joan and Eunice and unconvinced by the sudden killing - Eunice had not expressed revenge towards anyone in the family except Melinda; moreover, her reaction to her dismissal by George was too accepting. In fact there was too little weight put on the psychology of the characters – the story was not believable. Perhaps the stage is not the right setting for A Judgement in Stone – television may do it more justice.
A Judgement in Stone is at Milton Keynes Theatre until Saturday 29th July
0844871 7652
Booking fee applies
By
Kirstie Niland
15th October 2018
The UK's first specialist fully fledged Musical Theatre Festival at Sea - Stages - featuring Michael Ball, Collabro, Beverley Knight, Lee Mead, Showstopper! The Improvised Musical launches next year.
Some of the world's most celebrated West End and Broadway stars will entertain passengers on-board the Royal Caribbean's Navigator of the Seas on a four-night round-trip voyage from Southampton.
Stages will feature an array of West End and Broadway stars including Olivier Award-winning star Michael Ball, musical theatre group Collabro, and Beverley Knight - award-winning soul singer & star of The Bodyguard, Memphis the Musical and Cats.
They will join Lee Mead (Joseph and the Amazing Technicolour Dreamcoat, Wicked), Sophie Evans (The Wizard of Oz, Wicked), John Owen-Jones (Les Miserables, Phantom of the Opera) and Drama Desk Award Nominated actress and 'diva' impressionist Christina Bianco – direct from Broadway.
Last but definitely not least, this spectacular festival will feature the Olivier Award-winning West-End production Showstopper! The Improvised Musical, an Edinburgh Fringe favourite.
And there will be lots of opportunities for audience particpation via the Masquerade Ball, dance classes and the Musical Theatre choir.
The luxurious Stages cruise is produced by Floating Festivals, with assistance from Royal Caribbean, with live music promoters Cuffe and Taylor sourcing the major star artists and attractions.
Unlike other chartered cruises, Floating Festivals will not just replace the usual cruise ship entertainment programme, it will transform the ship into a full Musical Theatre floating resort.
Guests will be transported to the stages of the West End and Broadway for a real extravaganza at sea including full live shows and performances, workshops with stars from the world of musical theatre and live Q&A events and activities.
Floating Festivals is the brainchild of Jonathan Blackburn, who said: "Not only will there be show-stopping performances and shows, but passengers will also get the opportunity to meet and hear from the people behind some of the most celebrated musical theatre shows in the world.
"The Navigator of the Seas is a beautiful ship and while we will look forward to seeing passengers having an absolute ball with all the entertainment and shows, they will also be able to sit back, relax and enjoy all the fantastic attractions included on this wonderful ship."
As well as being part of the UK's first ever Floating Festivals passengers will be able to enjoy all the amazing features of the Navigator of the Seas including a 9-hole miniature golf course and separate Golf Simulator, the unique FlowRider surf simulator, the signature Royal Caribbean Rock Wall, ground-breaking virtual balcony cabins, the Vegas style Casino Royale, luxurious Vitality Spa & Fitness Centre, three pools, six whirlpools, Video Arcade and a selection of luxury Boutique Shopping experiences.
All Floating Festivals packages also include complimentary à la carte restaurant and buffet dining for breakfast, lunch and dinner every day. Speciality Restaurants are also available for an additional charge.
The Floating Festivals Stages cruise will depart Southampton for four nights from 15 October 2018 and includes a full day in Amsterdam.

Prices from £699.00 (inclusive of mandatory charges of £110.00pp for gratuities, taxes and fees). For more details go to www.FloatingFestivals.co.uk

A second cruise - Throwback - departs Southampton for three nights from 12 October 2018 and includes a full day in Bruges (from Zeebrugge).Throwback is a party-fuelled three-night roundtrip cruise Southampton/Southampton including a full day stop in Bruges, celebrating all things 80s and will feature a line-up of chart-topping legends from the decade including headliners The Human League, OMD and Erasure's Andy Bell, along with Jason Donovan, Sonia and Imagination featuring Errol Kennedy, while Captain Sensible will be helping steer the ship back to the 80s.
By
Kirstie Niland
Lytham Festival, 2nd-5th August
Internationally renowned musical theatre star and pop icon Marti Pellow has been added to the bill at this year's Lytham Festival.
No stranger to the event after performing at Lytham Festival's Last Night of the Proms in 2015, Marti will join the line-up for this year's West End Proms on Sunday August 6.
His West End and Broadway credits include Blood Brothers and the role of Billy Flynn in Chicago and Che in Evita.
He will join West End and Broadway royalty as Miss Saigon star Lea Salonga, musical theatre group Collabro, Olivier Award winner Ruthie Henshall, Chicago star Claire Sweeney, 90s pop sensation turned musical theatre star Jon Lee, Blackpool musical theatre star Jodie Prenger, Lytham-born rising West End star Lucie Mae Sumner and English National Opera soprano Jo Appleby will all perform too.
The news follows the announcement earlier this week that 13-year-old Britain's Got Talent finalist Beau Dermott will also form part of the line-up.
Lytham Festival director Peter Taylor said: "We are thrilled Marti is returning to Lytham Festival. He was a firm favourite when he performed here in 2015 so to be bringing him back two years later is fantastic.
"He is a wonderful addition to our West End Proms line up and we can't wait. This night will mark a spectacular end to this year's Lytham Festival and is sure to be a truly memorable evening."
With a string of hits under his belt including Sweet Little Mystery, Wishing I Was Lucky and one of the longest running Number One singles in UK Chart history, Love Is All Around, Marti Pellow has gone on to become a leading musical theatre star, as well as releasing seven solo albums.
Lytham Festival's West End Proms will see the stars of both stage and screen perform an array of hits with a full 60-piece orchestra. The evening will end with a traditional Last Night of the Proms finale – an event when families and live music lovers are encouraged to pack up their candelabras and picnic hampers for an evening of musical celebration.
For further information and tickets go to www.lythamfestival.com
Line-up Lytham Festival 2017:
MAIN PROMS ARENA
Weds August 2 – Olly Murs
Thurs August 3 – Hacienda Classical
Fri August 4 – 80s V 90s
Sat Aug 5 – Madness
Sun Aug 6 – West End Proms
LOWTHER PAVILION
Tues Aug 1 – Woofers Comedy Club presents Tom Binns
Weds Aug 2 – The Mersey Beatles 50th Anniversary Tribute to Sgt Pepper
Fri Aug 4 – Welcome to the Dancefloor Aftershow Party
Sat Aug 5 – The Blitz Club Aftershow Party
By
Louise Winter
Reviewed by Louise Winter
10 July 2017
Having seen Sally Cookson's creative re-imagining of La Strada earlier this year it was with very high expectations and great anticipation that I settled into my seat for her take on Jane Eyre. What a thrill! Absolutely nothing in this production disappoints; it is stupendous and utterly satisfying on all levels.
Charlotte Bronte's novel, which brought to the page much of her suffering and anguish as a young woman, was originally titled 'An autobiography' and published under the name Currer Bell. No one initially believed a woman would be the author of such an angry and passionately intense book and it created a huge stir at the time. There are numerous connections across Bronte and Eyre's lives; the north-country origins, early deaths of siblings, and desperately unhappy times through boarding school and early work-life. The power of the story and its autobiographical elements, married with Cookson's unique presentation and the powerful elements of the production design, combine to create an absorbing and mesmerising three hours.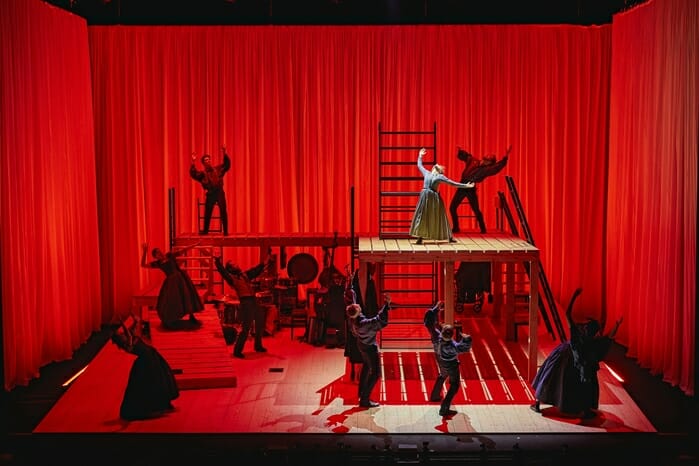 photo by
Michael Vale's stage design is understated and dynamically effective. A centre stage series of wooden frames, platforms and ladders, which remain immobile but are dynamically utilised by the players, serve as a child's climbing frame, various residences and institutions and rooms within these. Depending on how this frame is lit and populated, the atmosphere veers from the oppressive to the expansive. Further suspended or carried frames suggest outside spaces through to imagined vistas and the changing of the seasons. A background of white drapes on 3 sides serve as screens for Aideen Malone's colour projections creating shifts in emotional and physical space; the foreboding and punishment of the red room, the cruelty and starkness of the orphanage.
photo by
Benji Bowers' compositions and Dominic Bilkeys' sound design, are integral to everything that happens on stage. All original apart from three pieces, it is eclectic and performed centre stage by a small group of musician/actors. Far from being a distraction they are absolutely vital to the story and lend a further element to the story and atmosphere. There is often a hypnotic sense to quieter moments on stage created by the soundscape until contrasting speeds, genres and volume shift the timings and dynamically propel us again through Jane's journey and emotions. The fully integrated and balanced use of the designers' use of all elements of structure, sound, space, colour and movement ignite the audiences' imagination fully in Cookson's take.
photo by
A very small cast with actors playing multiple parts means everyone is on stage for most of the time. Outstanding one and all, this group of actors and their sense of unity creates the completeness of the experience rather than the relying on lead players. Melanie Marshall, at first appearing to be an understated narrator or commentator later emerging to be Bertha Mason, is still and poised emerging from the shadows to perform with the most entrancing operatically powerful voice. Her stillness symbolising her trapped life perhaps, with not a hint of chaotic madness about her but rather a measured clarity of purpose. Nadia Clifford as Jane is brilliant and the difficult and tumultous relationship between her and the excellent Tim Delap as Rochester is palpable, never veering into caricature but believable and true. Paul Mundell (Mr Brocklehurst/ Pilot/ Mason) is markedly different in his roles, very funny and unusual as Rochester's dog. Evelyn Miller (Bessie/ Blance Ingram/ St John) is outstanding and proves her versatility in this range of parts as does Hannah Bristow in her five roles.
A dynamic, energetic, absorbing and stunningly presented piece of physical theatre which brings a new dimension to Bronte's book.
Jane Eyre is at MK theatre until 15 July and then continues on tour
Box Office: 0844 871 7652 (bkg fee)
Groups Hotline: 01908 547609
Access Booking: 0844 872 7677
Online Booking: www.atgtickets.com/miltonkeynes (bkg fee)
.
By
Trevor Gent
Well I must be one of the few people who never saw this film when it came out! It was mostly because I was not a fan of Adam Sandler from his previous efforts on screen. However, this fact did not detract from my enjoyment of this very entertaining musical. Whilst the audience took their seats there was a screen on stage showing 1980's film clips including, Rambo, Back to the Future, Weird Science and even Madonna in Desperately Seeking Susan.
It's 1985. Hair is huge, greed is good and rock-star wannabe Robbie Hart (Jon Robyns) is New Jersey's favourite wedding singer fronting the band 'Simply Wed'. When his own fiancée dumps him at the altar a seriously mixed up Robbie makes every wedding as disastrous as his own.
Can sweet natured Julia (Cassie Compton) and her best friend Holly (Lucie Jones) lure Robbie out of the dumpster and back into the limelight? Or is he going to see her head off down the aisle with Wall Street bad boy Glen (Ray Quinn). Only Grandma Rosie (Ruth Madoc) seems to be able to see that Robbie and Julia are the couple that are meant to be.
I won't go through the whole storyline as you need to experience this yourself but it's a feel good story with some rocky moments along the way.
There are many good musical numbers, my favourites 'It's your Wedding Day', 'Casualty of Love' with some Thriller Video type dance moves, 'Right in Front of Your Eyes' and 'Single' There is even a bit of Rap from Rosie which went down well with the audience.
The cast were wonderful and there are lots of laughs too. Apart from the main characters my favourite has to be the drunk bridegroom and the bar drunk (I think played by the same person). If you are looking for entertainment this is certainly one to see and I may just go out and rent the film on DVD too!
Full cast list on this link http://theweddingsingermusical.co.uk/cast-creative
THE WEDDING SINGER
Music by Matthew Sklar
Book by Chad Beguelin and Tim Herlihy
Lyrics by Chad Beguelin
Based upon the New Line Cinema film Written by Tim Herlihy
Directed and Choreographed by Nick Winston
Performances by arrangement with Music Theatre International (Europe) Ltd
Future tour dates listed below:
Tuesday 11 – Saturday 15 July.
Box Office: 01494 512 000
High Wycombe, Swan Theatre
Website: www.wycombeswan.co.uk
Monday 17 – Saturday 22 July

Box Office: 0114 249 6000
Sheffield, Lyceum Theatre
Website: www.sheffieldtheatres.co.uk
Tuesday 25 – Saturday 29 July
Box Office: 01492 872000
Llandudno, Venue Cymru
Website: www.venuecymru.co.uk
Tuesday 1 – Saturday 5 August
Box Office: 020 3285 6000
Bromley, Churchill Theatre
Website: www.churchilltheatre.co.uk
Tuesday 8 – Saturday 12 August
Box Office: 01752 267222
Theatre Royal, Plymouth
Website: www.theatreroyal.com
Tuesday 22 – Saturday 26 August
Box Office: 0844 848 2700
Leeds Grand Theatre
Website: www.leedsgrandtheatre.com
Tuesday 29 August – Saturday 2 September
Box Office: 0844 871 7650
Theatre Royal Brighton
Website: www.atgtickets.com
Tuesday 5 – Saturday 9 September
Box Office: 01892 530613
Tunbridge Wells, Assembly Hall Theatre
Website: www.assemblyhalltheatre.co.uk
Tuesday 12 – Saturday 16 September
Box Office: 01743 281281
Shrewsbury, Theatre Severn
Website: www.theatresevern.co.uk
Tuesday 19 – Saturday 23 September
Box Office: 01792 475715
Swansea, Grand Theatre
Website: www.swanseagrand.co.uk
Tuesday 26 – Saturday 30 September
Box Office: 023 9282 8282
Portsmouth, King's Theatre
Website: www.kingsportsmouth.co.uk
Tuesday 3 – Saturday 7 October
Box Office: 01902 429212
Wolverhampton, Grand Theatre
Website: www.grandtheatre.co.uk
Reviewed by Trevor Gent
11th July 2017
By
Yvonne Delahaye
As the most successful Queen of Rock 'n' Roll, Tina Turner has received eleven Grammy Awards, including eight competitive awards and three Grammy Hall of Fame awards. With combined album and single sales of approximately 180 million copies worldwide, she's sold more concert tickets than any other solo performer, reached No 17 on Rolling Stone Magazine's list of greatest singers of all time and was inducted into the Rock and Roll Hall of Fame. She's currently working on a new musical based on her life called 'Tina'.
Worldwide Event Productions have created a faithful representation of Tina Turner's iconic shows as Totally Tina features a fantastic live band, authentic dance routines and lots of gorgeous costume changes throughout. Voted the UK's Official No 1 Tribute to Tina Turner by the Agents Association of Great Britain at the 2016 National Tribute Music Awards, Justine Riddoch morphs into Tina with incredible vocals, mannerisms, gestures and dancing.
Being a singer myself, I always admire tribute acts as I know just how hard they have to work to get the vocals right and you have to be a very accomplished singer to achieve success. Justine has been in the business for over 26 years and in 2002 won 'Stars in their Eyes' as Anastacia and her subsequent, 'Justine is Anastacia' show was in great demand. As Anastacia's sales waned, Justine realised it was time to reinvent herself again and set about transforming herself into Tina Turner.
The show that we now see has been honed to perfection and Justine is the ultimate entertainer, engaging the audience quickly, bantering with them and the band and owning the stage with her energy, presence and dynamic vocals. All the biggest hits are covered from River Deep, Mountain High, Private Dancer, Steamy Windows, Nutbush City Limits, Proud Mary through to Simply the Best. Justine looks absolutely stunning in a series of glorious sequinned dresses and impossibly high heels, that I haven't a clue how she moved around the stage in, but I had serious shoe envy! What a pair of pins she has too and lead guitarist Jimmy singing 'Hot Legs' was a perfect song choice, as Justine looks exactly like Tina in her mini dresses.
This really is a fantastic evening and you'd swear that you were watching the real Tina in action. For further details of the show, with video clips and tour dates visit www.totallytina.co.uk
Reviewed by:
Yvonne Delahaye
8.7.17
@yvonnedelahaye
By
Alison Smith
Dreamboats and Petticoats is either, for the baby boom generation a nostalgic trip back to their youth or, for their grandchildren, an introduction to the revolution in music and fashion of 'teenagers' - a term surprisingly only coined in 1957 - in the late 50s and early 60s.
The story line of the musical is simple and somewhat hackneyed; a garrulous grandfather is giving his old Fender guitar to his granddaughter - and through a series of flashbacks we learn that Bobby, the grandfather, had been an aspiring singer and song writer, a member of St Mungo's youth club, that he had been smitten by an unsuitable girl, but that he had eventually realised his true love was the sister of his best friend. We are presented with the angst of teenagers – pimples, lack of money, jealousy. However, this uninspiring scenario is just an excuse for some wonderful musical hopscotch of the pop and rock songs from that era, such as Bobby's Girl and Runaround Sue, Only Sixteen and Teenager in Love, sung and played with energy and confidence by a very talented cast. Norman, (Alastair Hill) a Billy Fury lookalike, with swivelling hips, wonderful voice and a Brylcreemed quiff is a most believable 'bad boy', while Bobby (Alistair Higgins) portrays a good, yet foolish, teenager. The two female characters that partner these young men are sexy Sue, (Laura Darton) and demure Laura, (Elizabeth Carter) – who play their respective roles endearingly.
The script by Laurence Marks and Maurice Gran closely harkens back to everyday life of the 60s with mention of a twin-tub, the opening of the M1, Butterkists, and Formica. The scenery and costumes emphasise those years – advertising posters, elasticised belts, a duffle bag, the caretaker's brown coat and polka dots on the girl's skirts. Two memorable scenes are the slow- motion fight and the dodgem car on Southend pier – although more could have been made of the latter.
But the real stars of the show are the songs – performed by a great band and singers; it was easy to forget that the cast were singing and dancing and playing throughout and never once did the quality of the performance lapse. Three noteworthy renditions were Poetry in Motion, Only the Lonely – great hand movements – and the perfect harmonies of Sweet Sixteen. In the finale the participation of the audience to C'mon Everybody, Hey Baby, Way Down Yonder in New Orleans and At the Hop showed that the music had struck a chord with those who had been around when the songs first hit the radio. A very enjoyable evening.
Dreamboats and Petticoats is at Milton Keynes Theatre until Saturday 8th July
0844 871 7652
Booking fee applies
By
Carolin Kopplin
The charming and innovative Blue Elephant Theatre in Camberwell, which has nurtured such artists and companies as Theatre Ad Infinitum, Theatre Témoin and On the Run was amongst just five new theatre organisations in London to be added to Arts Council England's National Portfolio Organisations on June 27th.
Blue Elephant Theatre is a small fringe theatre located on the Wyndham and Comber Estate in Camberwell, South London. It seeks to offer creative opportunities to those who may not otherwise to be able to access them, through both its Artistic and Participation Departments. Its Artistic Department works with emerging artists, programming new work across art forms but with a particular focus on theatre and dance. Its Participation Department has developed free high-quality creative, learning and community provision over many years to tackle issues locally which prevent people, especially disadvantaged young people, achieving their potential. The Blue Elephant's equal emphasis on professional and participation work is very unusual in London fringe theatre.
Blue Elephant Theatre has been supported by Southwark Council since it opened in 1999 and by many other funders over the years, including Children in Need which has supported its Young People's Theatre for a decade. In 2014, members of Young People's Theatre joined Gareth Malone and a number of celebrity singers to record the year's official BBC Children in Need single which went to number one in the charts. Recently, as Southwark Council's Arts & Events' budgets have been drastically cut, the future of the Blue Elephant has been uncertain at best but the prospect of being a National Portfolio Organisation from 2018-2022 provides much-needed stability for the organisation.
Co-Artistic Directors, Niamh de Valera and Jo Sadler-Lovett, are delighted by the news as are all Blue Elephant's Board of Trustees, staff and volunteers. Niamh says, "We're absolutely blown away by this news and by the number of people who have come forward to congratulate us this week. The Blue Elephant has touched a lot of people's lives for the better and we are so relieved and excited that its future is now more secure than ever".
More info on the Blue Elephant Theatre: http://www.blueelephanttheatre.co.uk/