By
Clare Brotherwood
Rob Drummond and Nicholas Bone need divine intervention!
Growing up as atheists in religious households has left them both in a quandary. Loving their fathers but unable to talk to them about their lack of faith has had them questioning all aspects of their lives, and particularly the relationship between fathers and sons.
It all began when Bone's father, a bishop in the Church of England, referred him to a book by a preacher's son who gradually lost his faith in God.
Now the two friends have got together to write and perform a play based on Father & Son by Victorian poet, writer and critic Edmund Gosse.
In Our Fathers, Drummond, whose dad is a Church of Scotland minister, and Bone re-enact Gosse's story of his growing up in a strict Plymouth Brethren household.
But it is far from just an account of Gosse's life. Both actors dip in and out of the story to interact about their own lives, often on a very personal level as they argue and debate, even to the point of Drummond leaving the stage on one occasion to leave Bone to 'get on with it'.
It's a little contrived but adds another level to this 75-minute performance which is not only thought-provoking but also at times highly entertaining as well as moving.
Drummond particularly connects with the audience, beginning before the play begins by asking members for the 10 Commandments so he can write them up on a chalk board. But both deliver as if talking to a group of friends.
Our Fathers is the first collaboration between the Traverse Theatre and Bone's Magnetic North theatre company, and certainly gives its audience food for thought.
Our Fathers is at the Traverse Theatre until Oct 28.
0131 228 1404
It then commences touring:
Nov 1-4: Tron Theatre Glasgow
Nov 8: Eden Court Inverness
Nov 9: The Barn Banchory
Nov 10: The Lemon Tree Aberdeen
Nov 11: The Beacon Arts Centre Greenock
Nov 15: Platform Glasgow
Nov 16-17: Byre Theatre St Andrews
Nov 18: Eastgate Theatre Peebles
By
Louise Winter
Reviewed by Louise Winter
24 October 2017
The Addams Family was the creation of illustrator Charles Addams. His characters first appeared in The New Yorker magazine in 1938 as a cartoon strip which was developed many years later in 1964 into an ABC TV series where the clan was fleshed-out, so to speak. Although unconventional and positively odd in many ways, they were portrayed as happy, loving and functional. The show was a huge success even with the highly popular and similarly unconventional Munsters on rival CBS. The cast was excellent, the scripts were funny and imaginative and the catchy four-note theme tune, along with the finger clicking, found its way into popular culture. After over 60 episodes the show was cancelled and it took a lull of a few years for the family to find a new home; this time on the big screen in 1991. This was a massive hit with an incredible cast: Raul Julia as Gomez, Angelica Huston as Morticia, Christina Ricci as Wednesday and Christopher Lloyd as Uncle Fester. It led to a sequel, an animated series, video games and a range of merchandise and introduced the family to a whole new and young audience; it is the definitive portrayal of the family for many fans. After all these incarnations the only place left was the stage and this musical, first performed in 2010, is the result of a collaboration between Marshall Brickman and Rick Elice along with songwriter Andrew Lippa.
image by Matt Martin
Whilst understandable that producers and directors will want to put their own stamp on a production it is puzzling why there would be such a move away from the elements that are integral to the Addams family and the basis of their popularity. Andrew Lippa (music and Lyrics) states that the story is 'inter-generational'. Indeed, it always has been and this is a fundamental aspect of the Adamms family; that it has an appeal for quite young children through to adults. So, this begs the question why the children Wednesday and Pugsley have been moved into their teenage years and why the only storyline is that of the tedious and overdone theme of two teenagers from different types of families falling in love against family wishes. The result is that the younger members of the audience (of which there were many on tuesday) have nothing to relate to and the positioning of much of the humour as purely adult-appropriate further narrows the scope and alienates even those young teenagers in the audience. This is baffling; The Addams Family has always had an all-age appeal and had something for everyone but this is not so here and this show is definitely poorer for it. It's not a family show.
Designer Diego Pitarch states that the production has 'been faithful to the original'. This is true generally of the visual aesthetics where nearly all is fixed and enclosed within the house. The Addams' residence is in the middle of Central Park providing the opportunity to exploit a wealth of visual elements and create some interest on stage but we are instead given the obvious haunted house set.
image by Matt Martin
The show starts dynamically enough with the full company onstage for the catchy 'When you're an Addams' and over the next couple of scenes the main players are introduced. Cameron Blakely as Gomez is outstanding and has the audience eating out of the palm of his hand. He is hilarious and the source of most of the humour – not necessarily from the script. While well matched on stage by the rest of this cast he is far and away the strongest player. Scott Paige (standing in for an ill Les Dennis) as Fester was brilliant as a gentle uncle Fester, Samantha Womack plays Morticia as elegant and cool but rather too still throughout. Wednesday (Carrie Hope Fletcher) is a fairly generic American teenager here if you remove her specific Addams traits, but Fletcher does a good job. Pugsley (Grant McIntyre) is funny but underused as his sister's attention is elsewhere rather than tormenting him.
image by Matt Martin
The story, such as it is, introduces Wednesday's love interest Lucas Beineke (Oliver Ormson) as another generic American teenager. Ormson has a very specific voice which becomes thinner and whinier the more he talks and sings unfortunately. The two families meet for dinner with the Beineke's coming to the Addams' mansion. Here the engagement is due to be announced with, according to the blurb, 'hilarious consequences', overselling this momentarily vaguely amusing scene! If anything it is mostly odd, introducing a game called Full Disclosure, and sending Mrs Beineke (Charlotte Page) into some sort of realisation that her marriage isn't as it could be setting up the second act for the realisations that all relationships have problems and all families are 'normal' in their own way. So what's new?
This is a very long show as a result of the number of musical pieces that are packed in to make up for the lack of a storyline. The music and lyrics are original, very catchy and excellently performed by the cast who mostly have very powerful voices and are accompanied by an orchestra led by Andrew Corcoran; this makes all the difference in this show. However, the original Addams family theme tune and finger clicking is missing until a few seconds at the end. This was a disappointing for the audience near me who were expecting this to hear this and enjoy some participation. Perhaps there is a copyright issue here otherwise it is unclear why this iconic music would not be used throughout this show. While the music and lyrics along with Blakely are the strongest part of the show they cannot make up for the almost non-existent plotline.
Plays MK theatre until Saturday 28 October 2017
book tickets at http://www.atgtickets.com
Box office 0844 871 7652
Groups Hotline 01908 547609
Access Booking 0844 872 767
By
Carolin Kopplin
Blue Elephant Theatre 2017 Winter Season

"The exciting fringe outpost that is the Blue Elephant"
Graham Watts, Dance Tabs

The Blue Elephant continues to offer a wealth of exciting performances by emerging artists across the arts. New writing, family shows and physical theatre feature strongly in the programme, tackling topics from immigration and aging to consent and mental health.

Exciting theatre companies Original Impact, The Dot Collective and Moon on a Stick return to the Blue Elephant this season and their work alone demonstrates the breadth of the programme. Original Impact are a performance collective with a strong actor-musician focus who present new work and contemporary retellings of classics. The Dot Collective creates high-quality work with and for older people, especially those with dementia. Moon on a Stick creates original shows for children, using puppetry and live music.

This is Blue Elephant Theatre's first season to be announced since learning in June that it is to be added to Arts Council England's National Portfolio Organisations from April 2018. Blue Elephant Theatre was amongst just five new theatre organisations in London to be added to the portfolio, offering the theatre more stability and greater opportunities to develop its work.
A night of new work from men, tackling the myths, bringing you the legends.

Following the successes of Female Intuition and Tit for Tat, Original Impact returns to the Blue Elephant to showcase more works of new writing, this time from a male perspective.

Rat King by Bram Davidovich tells the story of Kelly and Jacko, whose worlds collide on the streets of East London.

Delicacy by Mark Jones charts the aftermath of an unusual dinner party as a family discover their neighbour is a serial killer who has fed them human flesh.

Cubicle Confessions by Darrel Draper places pressure on toilet attendant Samarge to reach out and support a stranger contemplating suicide.

In The Rental by Mark Harvey Levine, Sonya receives an extraordinary birthday present - a rented boyfriend. He's the perfect man for her - but he's only there for a day.

Croydon Ho Yo Yo Yo by David Zaman is best described by character Lizzi as "a torrid tale of sisterly deceit, a will to power, and what happens when messed up Esta and me screwed with the wrong President in the wrong time, wrong place".

In The Red Telephone by Alasdair Melrose, a man sits alone at a table. A telephone sits in front of him. This is an antique red rotary telephone made by Siemens, engraved with an eagle, a swastika, and a name...
"Original Impact proves what is possible with a strong cast and some directorial creativity"
Culturised on Original Impact's Twelfth Night

Directors: Sean Hollands, Stephen Bailey, Dan Burman, Joshua Jewkes, Kris Witham & Dinos Psychogios
Cast: Stanley Eldridge, Victoria Hitchin, Jessica Kearney, Katie Turner, Alasdair Melrose, Will Anderson, Katie Capello, Katie Spencer- Blake, Darrel Draper, Dan Burman, Georgina Bennett, Kris Witham, James Morley, Joshua Jewkes & Zac Wancke
Theatre
The Actualisation Show
Ephemeral Ensemble
26 – 28 October
Professional Optimists Harley & Pedro bring you The Actualisation Show:
We'll forget you your troubles and believe in your dreams! Offered now at bargain prices - special rates negotiable! We're optimistic that you won't be disappointed!

The Actualisation Show is the first fully realised production of Ephemeral Ensemble, an international physical theatre company founded by Ramon Ayres and Eygló Belafonte. They co-direct following Belafonte's recent return from performing in Theatre Re's sell-out The Nature of Forgetting at the Edinburgh Fringe. Combining the skilled physicality, playful stage craft and vibrant music, Ephemeral Ensemble strives to create original, sincere and ambitious work that is inspired by human stories.

The Actualisation Show was created following interviews with those affected by suicide and Ephemeral Ensemble has worked with Papyrus and LAS.

Supported by Arts Council En

Directors: Eygló Belafonte & Ramon Ayres
Set, Prop & Costume: Rob Evison
Music, Sound & Lyrics: Alex Paton
Collaborators for research: Professor David Mosse, PAPYRUS & L.A.S.
Cast: Ramon Ayres & Rob Evison
Theatre
The Dance Hall
1 – 2 November

Caught between the past and the present, The Dance Hall touches on themes of immigration, loss, loneliness, family and, most importantly, (in)dependence.

When Annie dies far too young, Jimmy struggles with getting older and losing his independence. His family 'try to visit' when their lives allow, with his daughter and granddaughter supporting him as best they can.

An intimate story about an Irish family living in England, The Dance Hall delves into Jimmy's journey from Ireland, how he met his beloved Annie in the dance hall and the loneliness of his life without her.

The Dance Hall is presented as a work-in-progress production.

Writer: Eve Niker
Theatre
The Conversation
8 November

A performance exploring the topic of consent

In The Conversation, Lauren Burch considers the language of consent and how we talk about it. Or - how we do not talk about it.

Don't worry, she's not looking to shock you and she's definitely not angry at you. She just wants to impress you.

Lauren attempts to create a safe space where you feel relaxed and invited to enjoy yourself with the help of her hosting. All of this is for you, and she won't let you forget it. She's pulling out all the stops on this special night. She's setting herself high expectations, and she may fail to meet them. You may feel the urge to leave, and you are welcome to, whenever you want.

But oh baby, please don't go. She just wants you to stay.

Writer and Performer: Lauren Burch

Age guidance: 15+

"Utterly hilarious... a wildly successful all-family show"
The Stage ☆☆☆☆☆

Join Shakespeare's Men as they fly through the Bard's Macbeth, Romeo & Juliet and Twelfth Night in a whirlwind hour of mischievous storytelling. With tons of audience interaction, more than a dash of mayhem and a star turn from one lucky adult (shhh don't tell!), Shakespearience is the perfect treat for all the family.

An irreverent showcase of what makes us tick, blush, cringe and silently scream
The Two Pale Ladies, and their new pale mate, explore what it is to be embarrassed and how it happens, in hopes of finding a way of coping with it.

So that we can reduce the number of times a day we wish that the ground would open up and lose us within its burning furnace.

So that we may sleep better, with a clearer conscience.

So that we may be less embarrassed.

How to Cope with Embarrassment is part forum theatre, live art, cabaret, wanna-be comedy and a little bit of karaoke. Deliberately adopting a disloyal frame, it stomps between genres and styles as a reaction to the fickle and capricious nature of Embarrassment, with a focus on failure and error.
What would you do for the chance of a better tomorrow?
Apal and Climando have to pay for the tricycle they hired but they don´t have the money. How far will they go to survive in a world where all hope of a future is lost?

Three teenagers and an old man try to survive in a hostile, unintelligible and alienating world. They're just four marginal characters looking for their place in a system which forgot them.

The Tricycle was the first play by renowned Spanish playwright Fernando Arrabal. Written in 1952, is a strangely light-hearted tale of poverty and murder. In this perfect example of Absurd Theatre, the writer questions the limits of freedom and the relationship between our acts and their consequences in a rotten society where children commit sinister acts to survive.

Bright South Theatre, under the direction of Jesús Chavero, presents the London premiere of a new adaptation of The Tricycle. This young Spanish company presents its first project in English, portraying a playful yet disturbing world and posing questions as relevant now as when The Tricycle was first written.

Writer: Fernando Arrabal
Translator & Director: Jesús Chavero
Theatre
The Invisible
30 November – 1 December

A storyteller stands alone on the stage, sharing a story about an invisible character.

She waits for airplanes to cross the sky. She wants to see the outside world. She folds paper planes. She takes a flight. She leaves home. She arrives in a foreign country. She feels invisible. She asks why.

What happens when East Asian culture lands at Heathrow Airport? How much do you know about the invisible? How little do you know? The Invisible is a one-woman show by Yuyu Wang, drawing on real experiences of living in a foreign country, incorporating story-telling, music and movement. It aims to explore the vulnerability, homesickness and otherness of Asian communities overseas, offering a new perspective on current contemporary discussions around immigration, alienation and home.

Writer and Performer: Yuyu Wang
A much-loved story reinvented as a playful pantomime

Moon on a Stick combine enchanting puppetry and imaginative storytelling with traditional pantomime elements to create a fun and engaging show designed especially for tiny audience members.

Featuring live music, dance and audience interaction, Little Red Riding Hoodwill have everyone singing and laughing along but most importantly helping Little Red on her big adventure through the forest.

Packed full of silliness, a sassy heroine and sparkles, this is the perfect introduction to panto for children aged 3+ and their families.

Both performances on Saturday 9 December will be relaxed performances.

Supported by Arts Council England, Apples & Pears Foundation and the Wakefield & Tetley Foundation
Theatre

Framed around popular Christmas themes, familiar music and memories, Once Upon a Christmas Song is an alternative Christmas show, guaranteed nonetheless to make you feel festive.

Once Upon a Christmas Song is new play by Alexander Moschos, written following The Dot Collective's storytelling workshops with people living with dementia which were held at dementia friendly cafes, day care centres and activity groups for the elderly.

Characters, places and poetry were created. Memories, music and thoughts were shared between the service users and the artistic team. These one-hour workshops revealed many magical stories springing from the dynamic minds of the clients, regardless of age, disability or dementia. Moschos has responded to the memories and ideas around Christmas shared to write Once Upon a Christmas Song.

This play is truly a collaboration between the many minds met during the workshops and the playwright.

Writer: Alexander Moschos
By
Louise Winter
Reviewed by Louise Winter
17th October 2017
English National Ballet have created two stunning pieces for this tour.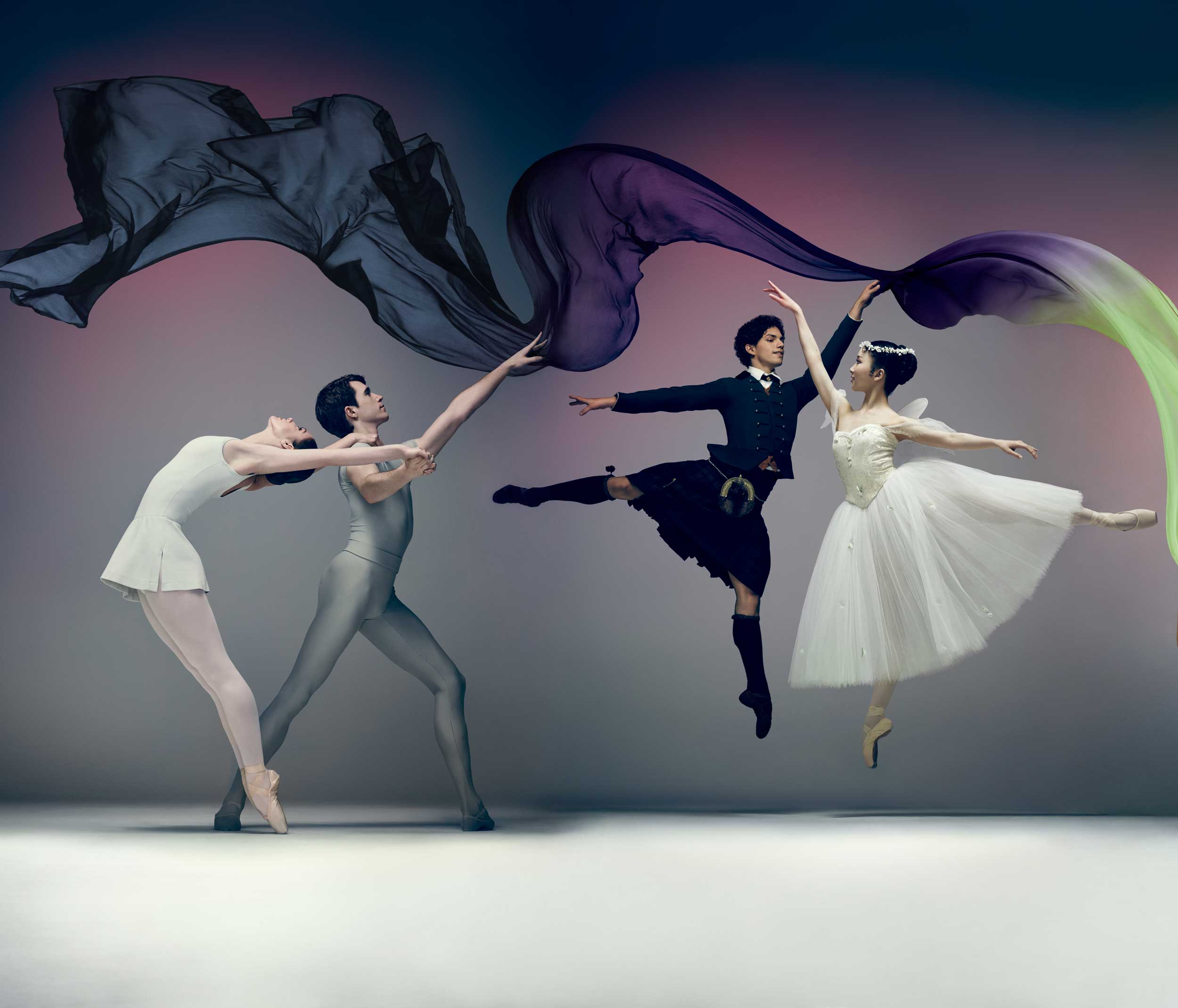 image by Jason Bell
Sir Kenneth MacMillan's Song of the Earth and August Bournonville's La Sylphide recreated by Frank Andersen and Eva Kloborg are both new to ENB and showcase the incredible talents and abilities of the ENB as a whole.
Song of the Earth has three primary characters, a man, a woman and 'the messenger of death'. This is a poignant study of life's journey and of death's constant presence. Mahler's mesmerising Das Lied von der Erde score is performed by the splendid English National Ballet Philharmonic led by Gavin Sutherland and each of the six songs is exquisitely performed by Mezzo Soprano Flora McIntosh and Tenor Simon Gfeller.
image by Laurent Liotardo
Macmillan's choreography is stunning, drawing out Mahler's musical phrasing through the performers who are propelled across the whole of this expansive empty stage. Simply attired in monochromatic dress the three key performers present a powerful synergy. Aaron Robison is a fabulously commanding presence as the messenger of death. His height and elegant body line and shaping are well suited to the role and his seduction of firstly the Man, the powerful Joseph Caley, and then the delicate and seemingly vulnerable Woman, Tamara Rojo. Caley's character, initially hopeful and robust, is continually confronted and tested by Robison's ominous messenger. Rojo's expressiveness is perfect for her character's journey from spirited purity to the desperate end acquiescence.
This is a challenging, powerful work which slowly draws you into it absorbing you as it reaches its dramatically sad close.
image by Laurent Liotardo
The second piece here is Bournonville's La Sylphide, exploring all-absorbing love which ultimately leads to tragic end. Choreographers Frank Anderson and Eva Kloborg stay faithful to this classically romantic ballet's original 1830s presentation and the feel, in sharp contrast with the first piece is of the traditional. There is a wonderful melding of classical ballet steps and Scottish folk dance which is exciting, in its speed and precision.
This is a captivating piece in part due it sumptuous nature. It is a massive production with full scenery, costumes and cast. Erina Tagahashi as the Sylph, is engagingly, vulnerably magical and her physical expression in the death scene is heartbreakingly moving. Jeffrey Cirio (James) is a thoroughly dynamic performer and Francesca Velicu as his bride to be Effy, is prettily innocent.
Image by Laurent Liotardo
Milkael Melbye's design is fabulous and adds a further layer of magic into the production; gorgeous costumes of rich golds, greens and red tartans and exquisite traditional soft, white tulle for the huge cast of sylphs.
Two completely contrasting pieces which complement each other perfectly in this superb evening's ballet.
at Milton Keynes Theatre until 21st October
book tickets at http://www.atgtickets.com/shows/song-of-the-earth-la-sylphide/milton-keynes-theatre/
Box office 0844 871 7652
Groups Hotline 01908 547609
Access Booking 0844 872 7677
By
G.D. Mills
Strange goings on and a silver romance form the subject of a new, inventive play by Forest of Dean playwright Maria Edey. Stuff 'em an' kip 'em Safe presents a macabre new world in which space at the graveyards is at a premium and where loved ones are stuffed and preserved to 'live' alongside those who can't bear to be without them. As Maria explains: "The idea came to me when I read about the graveyards becoming full and I knew someone who just sat there like they were stuffed. The story was formed. It is a darkly funny comedy, not for the sensitive or faint hearted." Explored within the play is the question of who will go for this new mode of living and how it will affect the progress of their lives.
The play abounds with Forest of Dean humour and springs from the playwright's long association with the area, which she has served as both local councillor and business owner. She currently operates a very popular dog grooming business which gives her plenty of opportunity to absorb the local dialect, or 'Vorest Spake', captured so well in the play's musical dialogue. The plot follows a gentle romance as it blooms (their stuffed spouses in the background!) between wordly outsider, Charles Collard, and timorous Forester, Ethel Price. Ethel's bluntly spoken old friend (awld butty) Gladys Jones, meanwhile, is always on hand to spice things up.
Performed by a large, professional cast the ensemble is led by seasoned performers Penelope Wildgoose (recently Margaret Thatcher for Channel 5's Inside Balmoral), Anna Liddell (Jane Austen in the feature film The Dinosaur Hunters) and Paul Maguire (television credits include Casualty and Buffalo Girls). A comical yet grizzly presence, the stuffed spouses - dressed, of course, to suit the décor - are played by Birmingham School of Acting graduate Alex Ranahan and local Lynne Murch. Supporting roles are filled by Sammy J Turley, Christian Rowbotham and Geoff Mills. At the artistic helm is veteran director Sue Bennett.
Maria Edey is ambitious for the production and hopes it will play at other performance venues. You can catch the opening night at Lydney Town Hall on November 11th.
By
Carolin Kopplin
THE NINTH CONSECUTIVE YEAR
VIBRANT 2017 –
A FESTIVAL OF FINBOROUGH PLAYWRIGHTS
Curated by Finborough Theatre Artistic Director Neil McPherson.
Produced by Lynne McConway.
Plays by
June Carryl, Sue Healy, Adam Hughes, Iain Finlay Macleod, Joe Marsh, Carmen Nasr, Jeff Page, Avin Shah and Athena Stevens
Directed by
Charlie Barker, Manuel Bau, Jelena Budmir, Liz Carruthers, Shane Dempsey, Fay Lomas, Ali Pidsley, Tricia Thorns and Oscar Toeman.
Supported by
The Richard Carne Trust. Oberon Books. Hogarth Estates. Samuel French Limited.
Now in its ninth consecutive year, the multi-award-winning Finborough Theatre – the coalface of British Theatre – presents Vibrant 2017 – A Festival of Finborough Playwrights, its annual explosion of new writing, performing on Sundays, Mondays and Thursdays, 8, 9, 12, 15, 16, 19, 22, 23, 26 October 2017
As always, this year's festival features an intriguing selection of staged readings of new works by UK and international playwrights, both established and new, discovered, developed or championed by the Finborough Theatre.
Concentrated solely on full length works for the stage, Vibrant 2017 – A Festival of Finborough Playwrights continues to introduce you to some of the fascinating diverse vibrant voices the theatre has nurtured.
Since the first festival in 2009, Vibrant festivals have included over 100 new plays, 26 of which have gone on to be produced in full productions at the Finborough Theatre including Mirror Teeth by Nick Gill, The Man by James Graham, And I And Silence by Naomi Wallace, Black Jesus by Anders Lustgarten, Carthage by Chris Thompson, Nona Shepphard and Craig Adams' musical version of Thérèse Raquin, This Heaven by Nakkiah Lui, Continuity by Gerry Moynihan, and Dubailand by Carmen Nasr. Many other plays first seen in Vibrant have also gone on to be produced by other theatres.
Despite remaining completely unsubsidised, the Finborough Theatre has an unparalleled track record of discovering new playwrights who go on to become leading voices in British theatre. Under Artistic Director Neil McPherson, it has discovered some of the UK's most exciting new playwrights including Laura Wade, James Graham, Mike Bartlett, Chris Thompson, Jack Thorne, Alexandra Wood, Al Smith, Nicholas de Jongh and Anders Lustgarten; and directors including Blanche McIntyre, Robert Hastie, Kate Wasserberg and Sam Yates.
Vibrant 2017 – A Festival of Finborough Playwrights is again curated by Finborough Theatre Artistic Director Neil McPherson, winner of The Writers' Guild Award for the Encouragement of New Writing, and twice winner of the OffWestEnd Award for Best Artistic Director.
Week One – 8 - 12 October 2017
Sunday, 8 October 2017 at 7.30pm
Genie by Athena Stevens. Directed by Jelena Budimir.
With severe Cerebral Palsy, an IQ of 30, and the inability to hear, Genie has spent the past two decades isolated in an institution. But when Jessica, Genie's twin sister, decides to take her out of the care home, none of the doctors can explain why Genie has developed a compulsion to destroy anything made of fabric. With a home shredded and Jessica's marriage in tatters, being a carer proves to take more of a toll than Jessica expected. But when an unlikely explanation arises regarding Genie's compulsion, it calls into question how much she is aware of, and whether more meaning can be woven into her life than anyone ever thought. Based on the work of Judith Scott, Genie is an inspirational testament to the power of creativity in the face of trauma.
Monday, 9 October 2017 at 7.30pm
The Climbers by Carmen Nasr. Directed by Charlie Barker.
British couple Yasmin and Charlie are inexperienced but passionate mountaineers, determined to climb the highest mountain on Earth and see the curve of the Earth from the summit. With a hired professional guide and an army of Sherpas, they set off to conquer the mountain. But when things go wrong on the climb, and Charlie goes missing on the descent, Yasmin and the guide's accounts of what actually happened don't quite add up...
Exploring the questionable ambition of today's increasingly inexperienced expeditions to Mount Everest, The Climbers challenges our dangerous tendency to celebrate the human conquest of nature.
Thursday, 12 October 2017 at 3.00pm
Checkpoint Chana by Jeff Page. Directed by Manuel Bau.
Poet Bev Hemmings is in the eye of a storm after she publishes a poem that the world seems to believe is anti-Semitic. She's convinced she's innocent, but everyone else – including her PA, Tamsin – wants her to apologise. A press interview is planned to begin her public rehabilitation, but Bev's erratic behaviour, exacerbated by drink and a dying father, make her public contrition a complex process.
Checkpoint Chana examines the point where pro-Palestinian criticism of the government of Israel and anti-Semitism blur.
Week Two – 15 – 19 October 2017
Sunday, 15 October 2017 at 7.30pm
Beeston by Adam Hughes. Directed by Ali Pidsley.
Summer 2005. Beeston, Leeds. A once white-working class community divided by mass immigration and industrial decline. Nobody knows this more than scaffolder Jordan. His only real companion is younger brother Liam, who has fallen for Nadima, a medical student from the Asian community. But with the 7/7 bombings, everything changes, and Jordan finds himself moving down a dark path from which there may be no return... A new play exploring the demonisation of the white working-class and offers a fresh perspective on nationalism and identity in modern Britain.
Monday, 16 October 2017 at 7.30pm
Imaginationship by Sue Healy. Directed by Tricia Thorns.
Great Yarmouth, Norfolk. 59-year-old Ginnie attempts to seduce her unrequited love, the nymphomaniac Brenda. Attila is from Hungary but has ended up scraping an existence in Yarmouth –and pursues Melody who is obsessed with her cold and distant evening-class tutor, Tony. Power-plays and relationships clash until a seduction too far leads to mass murder. Set in a marginalised Brexit town, Imaginationship explores obsession, sex addiction, and the devastating effect of imbalanced relationships, not least between immigrants and locals, London and the regions.
Thursday, 19 October 2017 at 3.00pm
Morningland by Iain Finlay Macleod. Directed by Liz Carruthers.
A man and woman stand in Glenfinnan forest in the middle of the night. Sorley and Eimhir. He grallochs a deer they have hit with the car and tells her he is AWOL. They are going to Raasay, a place with its own ghosts for Sorley, but the only place no-one will find him. He was brought up there by his uncle, who was traumatised by the Spanish Civil War. Eimhir is Irish and Sorley hid it from her for long enough that he was in the army. Now she finds out that he speaks Arabic and works in intelligence. He has gone AWOL after having to question a man, Ali, involved in a terrorist attack. When they reach the island, his uncle, a man long dead, is there. Sorley encounters the three stories of his life at once – his childhood with his uncle, his unrequited love of Eimhir and the night he interrogates Ali.
Week Three – 22 – 26 October 2017
Sunday, 22 October 2017 at 7.30pm
The Good Minister From Harare by June Carryl. Directed by Shane Dempsey.
Inspired by the human toll of Robert Mugabe's massacre of at least 20,000 Ndebele in Zimbabwe thirty years ago, The Good Minister From Harare was the winner of the Armenian Dramatic Arts Alliance $10,000 Saroyan/Paul 2016 Human Rights Award, judged by Rob Drummer, Artistic Director of Boundless; Neil McPherson, Artistic Director of the Finborough Theatre since 1999; and Simon Levy, Artistic Director of the Fountain Theatre in Los Angeles since 1993.
When a low-level bureaucrat is asked to right a wrong committed in his village thirty years before, he quickly finds himself plunged into a nightmare wonderland of red tape, government thugs and revolutionary zealots. When the past won't stay buried, do you turn a blind eye and live, or die a martyr in the bloody business of liberation?
Monday, 23 October 2017 at 7.30pm
Outcaste by Avin Shah. Directed by Fay Lomas.
1914: A Hindu village boasting generations of warrior tradition. With the outbreak of war in Europe, the army recruitment business booms. With Untouchables deemed unfit for service, Yasmin's father sees an opportunity to enlist by converting to Islam. When he sails off to France, adolescent YASMIN remains behind in a religious community disgusted by her father's blasphemous act. Banned from education and a victim since birth, she struggles to adapt to her adopted Muslim faith whilst vulnerable to persecution and sexual violence. But when news arrives from the Western Front of her father's bravery, her underdog's guile is awakened. Climbing out of the gutter, she steps into the vacant men's shoes and becomes a fearsome adversary...
Thursday, 26 October 2017 at 3.00pm
We Struggle by Joe Marsh. Directed by Oscar Toeman.
A grey summer's day in East London. Jihad is a man on the edge. He has lost his job and his girlfriend Abida has left him in mysterious and sinister circumstances. Heartbroken and directionless, he defecates on the floor of his local Tesco superstore, steals a kitchen knife from its shelves, and over the hours that ensue has a series of encounters with friends, family and strangers as he forges a dark path forward. These encounters are interspersed with flashbacks to his ill-fated relationship with Abida, as their story of shattered hopes, insecurity and radicalisation unfolds, pointing towards the day's extraordinary climax... Bold and uncompromising, We Struggle is an urgent exploration of how life in our broken city is pushing people to extremes.
Introduce Yourself to the Finborough Theatre
To ensure our work remains accessible to all, accompanying this year's Vibrant 2017 – A Festival of Finborough Playwrights is the return of our Introduce Yourself initiative for writers who have never previously submitted work to the Finborough Theatre. The last Introduce Yourself saw us receive more than 200 submissions – one of which went on to a full production at the Finborough Theatre. We pride ourselves on accepting full length scripts all year round, but during Vibrant 2017 –A Festival of Finborough Playwrights, we'll be relaxing our usual submission rules to make ourselves even more accessible to new writers.
Introduce Yourself is for new writers from the UK who have never previously submitted work to the Finborough Theatre. We'll read your work and guarantee feedback from our Literary Team.
Please submit
An unperformed short play or twenty pages of an unperformed full length script.
A synopsis of whatever you are submitting.
A little bit about you. It could be a short biography, or a CV, or a chatty letter telling us what music you like.
Submissions must be made between Sunday, 8 October to Thursday, 26 October 2017
Please email ONLY and include the words 'Introduce Yourself' in the subject line toliteraryteam@finboroughtheatre.co.uk
We cannot accept submissions by post or by hand.
PDF attachments are preferred if possible.
Your play can be on any subject or in any style you like. We want to read what you are passionate about – not impose themes or subjects or time limits on you. Writers can be any age, but must be resident in the United Kingdom, and have never previously submitted work to the Finborough Theatre.
And every Wednesday evening during Vibrant 2017 - A Festival of Finborough Playwrights (11, 18 and 25 October), Neil McPherson, Artistic Director of the Finborough Theatre, and Sue Healy, Literary Manager of the Finborough Theatre, will be in the Finborough Arms pub below the theatre between 7.30pm and 9.30pm if you want to Introduce Yourself personally. Bookings will open for each fifteen minute slot at the Finborough Theatre through the Vibrant page of our website onSunday, 1 October 2017. Please note these meetings are for writers only. We will be holding similar events for directors and designers soon.
Inaugural Meeting of the Finborough Theatre Writers' Group
The Finborough Theatre Writers' Group will launch on Thursday, 19 October 2017 at the Finborough Arms pub, and, thereafter, it will be held at the Finborough Arms pub on the third Thursday of every month at 8.00pm.
The group is by invitation only and we will email the emerging and established playwrights we are keen to get to know better and those whom we feel would be an asset to and benefit most from the evening.
The speaker for the inaugural meeting will be announced on 10 October 2017.
Date: Thursday, 19 October (and the 3rd Thursday of every month thereafter).
Time: 8.00pm.
Place: The Finborough Arms pub, 118 Finborough Road, London SW10 9ED.
LISTINGS INFORMATION
Vibrant 2017 – A Festival of Finborough Playwrights
Finborough Theatre, 118 Finborough Road, London SW10 9ED
Book online at www.finboroughtheatre.co.uk
Telephone Booking 0844 847 1652 (calls will cost 7ppm plus your network access charge).
By
Kirstie Niland
The Opera House, Blackpool Winter Gardens, until Saturday 7th October
Put down the knitting, the book and the broom…and come join the Cabaret in Blackpool this weekend. But prepare to be shocked as well as entertained because this dark, sometimes funny, often thought-provoking musical delivers much more than memorable song and dance routines.
Set in the seedy Kit Kat Club, during a time of tyranny in 1930s Berlin, the tangled lives of Cabaret's main characters hurtle along a path of destruction in parallel with the horrifying consequences of the Nazis' rise to power.
The award-winning team of director Rufus Norris and choreographer Javier De Frutos has created a spectacle of decadence and debauchery; underpinned by the unlikely love story of American writer Cliff Bradshaw, played with engaging intensity by Charles Hagerty, and the promiscuous, risqué English cabaret performer Sally Bowles - aka TV celebrity and singer Louise Redknapp. Famed for her success in 90s R&B girl group Eternal, Louise is a natural on stage. With a voice powerful enough to fill the massive Opera House auditorium, she is both distracting and inspiring. Perfectly Marvellous in fact.
As a fan of 80s TV sitcom, A Fine Romance, and the character Helen played by Susan Penhaligon, it was a real treat to see her on stage as the German boarding house owner Fräulein Schneider, performing the amusing, sentimental duets with Linal Haft as the Jewish fruit vendor Herr Schultz; and her rendition of So What? was just lovely.
But the biggest impact of all came from singer and Pop Idol winner Will Young, whose portrayal of the flamboyant, androgynous and ghoulish Emcee is simply mesmerising. I would see Cabaret again for his performance alone.
The other main characters and ensemble execute the script and choreography with just the right amount of abandon to shock – but not too much.
There are some brilliantly staged scenes, such as the Emcee looming above the dancers as a puppeteer pulling their strings, a fast and furious rendition of Money – and a very clever back to front sequence where Sally's show at the Kit Kat Club goes on eerily behind a fringed curtain, as though we are backstage looking on.
The Opera House, which features one of world's largest stages, is ideal for the dramatic set design, from the enormous WILLKOMMEN sign, to the dazzling giant letters spelling KABARET and live band perched on a light-framed platform in the backdrop.
In 1966 Walter Kerr was famously quoted in the New York Times as saying that Cabaret "opens the door to a fresh notion of the bizarre, crackling, harsh and the beguiling uses that can be made of song and dance."
Today Cabaret still does that - this surprising, politically charged yet hugely watchable show, with whirling dancing and wry lyrics spinning the characters on a decadent high, before they fall, unravelling, as the Nazis become an oppressive presence, and a tragic finale shows the party is well and truly over.
Highly recommended.
Book tickets here.
Tour dates here.
By
Clare Brotherwood
With all the glamour and melodrama of a bygone age, Sunset Boulevard played to impromptu cheers and a standing ovation from an ecstatic Edinburgh audience on opening night.
And in the centre of it all was Ria Jones, who memorably took over from Glenn Close in London's West End production and has now made the role of tragic Norma Desmond all her own.
Every inch as charismatic as any big Hollywood star, this Welsh songstress movingly brings to life the faded silent screen actress who returns to Paramount Pictures, where she was once 'queen of the lot', with horrific consequences.
It's a performance which holds me spellbound, from her first glamorous entrance down a sweeping staircase to her cackling descent into madness. It is something of a shock when Jones takes her curtain calls for she seems so young and small compared to the character she plays. In one of the scenes when someone says, 'You used to be big', Norma Desmond retorts, 'I am big. It's the pictures that got small.' Well, what with her stage presence and soaring voice, everything around Ria Jones seems small by comparison. It's not just with one look that this production is a triumph. But she is not alone in making it so.
When Adam Pearce, as Max, her stiff, expressionless butler, comes on the scene, he reminds me of Lurch in the Addams Family movie, but his singing voice is extraordinary; rich and deep for the most part but with such an incredible range it leaves me open-mouthed.
Sunset Boulevard is very much like an opera, with performances worthy of any opera house… though you don't get many opera singers with the matinee idol looks of Danny Mac (who, incidentally, gets to demonstrate his Strictly Come Dancing skills) as the object of Norma Desmond's desires.
Some of Andrew Lloyd Webber's numbers bring me in mind of The Phantom of the Opera – in fact, the stories aren't that dissimilar. Both have damaged leading characters who haunt performances spaces – in Sunset Boulevard, Paramount Pictures' Stage 18 is an interesting montage of vintage spotlights and cameras against a backdrop of old black and white movies, courtesy of Colin Richmond, who also designed the sumptuous costumes.
But there are some really upbeat numbers which shout 'musical', such as New Year Tango, and, of course, such well known songs as The Greatest Star of All and The Perfect Year. On my way home a young girl passed me in the street singing them…
Sunset Boulevard is at the Edinburgh Playhouse until Oct 7.
Box office: 0844 871 3014